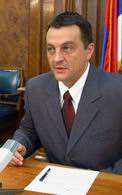 Zoran Zivkovic


Ladies and gentlemen deputies, I am not happy to be here today with the task I have, which was assigned to me by my party and to the coalition which my party belongs. I am sure that no one in this room is pleased with the fact that we have to appoint a new prime minister today. Everyone here is aware that the assassination of Prime Minister Zoran Djindjic is the loss of a great man, for his family, political party, the state.

That criminal act is not only the mafia's attempt to do away with the one whom most zealously wanted to stamp out organised crime, but it has a clear political background and obvious political instigators. I expect that the investigation which is under way will show who the political instigators and financiers of this murder are, and that they will be soon brought to justice, together with the assassins.

All of us who had the honour to work with Zoran Djindjic are obligated to continue what he and his government initiated two years ago. This is not a new government in the true sense of the word; this is a state of emergency within the government. Its priorities in the next period will remain to be those that were set two years ago and we will work very hard to accomplish them. There are seven very important issues which have to be dealt with immediately:

At this moment we are in great need of political stability, not for the sake of achieving a majority in parliament or because of the government which holds power in the state, but because of the state itself. For that reason, I urge not only all those in power, but in the opposition as well…to contribute to achieving political stability, I repeat, above all for the sake of the state and its citizens.

As I have already said, the proposal of the new government makeup is nothing new. I will try, together with my colleagues, to make up for the loss we suffered with the murder of Prime Minister Zoran Djindjic. The Serbian government will remain of the same composition, in the same direction, with the same tasks and goals, and with the same people carrying out the programme that was adopted in the parliament two years ago.

At this moment, our priorities are to fight organised crime, prepare a new, modern constitution of Serbia, to achieve general political stability in the country, which is a precondition for stability in the region, as well as further building and preservation of the state union of Serbia and Montenegro, which is a precondition for European and international integrations.

We must also continue with reforms of the economy, education and health sectors and the pension system, and we have to transform the socially-owned sector into a healthy and efficient private sector.

Legislation reform is the next priority, and is a precondition for attracting foreign investment to the country. One more priority is creating stable democratic institutions and improving the efficiency of public services, which must serve in the interest of citizens. We must also continue diplomatic, political and all other state activities to secure Serbia's rights in Kosovo-Metohija under [UNSC] Resolution 1244.

Like all other citizens, you are witnesses that the fight against organised crime did not begin on March 12, but much earlier. […] The Law on the fight against organised crime was adopted and the special public prosecutor, appointed. When he began his work and when the first results were achieved; when it was a question of hours, not days, when the first suspects were to be arrested, the Prime Minister was assassinated.

In order to fight organised crime more efficiently, we must strengthen the institutions which have the most important role in that fight, and these are the police and judiciary, in the technical, material and personnel sense.

[...]

As you have learned form statements issued by the Interior Ministry and the Serbian government, the operation launched on March 12 has already yielded results. Over 750 people have been detained and the majority of them, arrested. Large quantities of explosives, weapons, communications equipment and other illegal items have been found. The operation is ongoing.

The police and the judiciary must have state-of-the-art technical and technological equipment. Along with the modernisation of the judiciary and the appropriate professional, not political personnel, policy, this will be the new government's priority, that is, the government that will preserve the continuity of Zoran Djindjic's cabinet.

Creating general political stability in the country and further building and preserving the state union of Serbia and Montenegro is also a priority. [...]

Our short-term goals in foreign affairs include membership in the Council of Europe and the Partnership for Peace programme, as well as negotiations for membership in the European Union. The former Yugoslav government in part took steps to accomplish these goals, but it is clear that our efforts will be more intense and efficient now that the country has elected the Council of Ministers and the new parliament of the state union. Together with the establishment of the Serbian government, the country will have a common position on foreign policy for the first time in 15 years; a policy that will allow us to show our foreign partners a greater level of resolve and demonstrate that we have harmonised our positions.

The assassination of Prime Minister Djindjic will affect the economic results planned for this year. It is now clear that GDP will grow less than the projected five percent. The line ministers forecast the figure at around 3.5 percent. Also, the projected inflation rate of nine percent will be somewhat higher. Let me remind you that the government, led by Zoran Djindjic, managed to reduce inflation from 113 percent in 2000 to 41 percent in 2001 and 15 percent in 2002.

Just like Prime Minister Zoran Djindjic, I will not be telling lies, make-believe or anything we all know is nice to hear but impossible to accomplish. Just like the previous government, the new one will be telling the truth to the citizens. The truth is that it will take us years to achieve the level of social and national standards with which we will be satisfied; a level that will be comparable to those of neighbouring and European countries.

The Serbian government will continue with privatisation whose institutional framework was laid in 2001 and the first half of 2002. More than 500 companies were privatised by March 12: 415 through public auctions, 80 through tenders, and 80 through selling minority stakes. Duvanska Industrija Nis and Duvanska Industrija Vranje tobacco companies will be offered for tender sale in 15 days, and the Beopetrol [fuel chain] will be privatised shortly.

Last year's privatisation revenues stood at €355 million and new owners pledged investments of more than €300 million. This year, we expect to pull in €1 billion, €500 million in privatisation receipts and another €500 million in investments.

Laws on bankruptcy, registration, enterprises, and the loan guarantee fund are currently being drafted to complete all legal and formal preconditions for efficient activities in these areas.

Around €800 million in donations is expected this year. Donations in 2001 and 2002 stood at around €1,4 billion and were used up.

The government's activities in the period between Jan 2001 and March 12, 2003 resulted in the increase of average monthly salaries from €35 in 2000 to €102 in 2001 to €151 in 2002.

The government will continue with all activities aimed at increasing citizens' living standards, although solely from real economic sources.

Also, the government will carry out the decision to introduce fiscal cash registries in the second half of the year. And it expects agricultural production to increase by around three percent this year. [...]

Last year, the government set aside €175 million to reconstruct around 800 kilometers of roads in Serbia and another €50 million was secured from donations. The construction of the Belgrade-Novi Sad motorway is to begin within days. This year, the government plans to set aside €197 million to build 830 kilometres of roads. The reconstructed airport in Nis will begin operations in early July.

[...]

We expect parliament to adopt changes to judiciary laws to allow for the removal of corrupt and compromised judiciary staff that have hampered state efforts in the last two years in the fight against organised crime. This is not retaliation, but a clear position in a clear situation.

Unfortunately, we can say that Kosovo-Metohija is an everlasting subject for politicians in Serbia. In the last 10 or 15 years this subject has not gone in a direction that could make anyone in Serbia happy. Since the adoption of Resolution 1244, Serbia, Yugoslavia, and now the state union of Serbia and Montenegro have met all obligations stemming from the resolution. The international community has failed to meet half of its obligations.

This is why Prime Minister Djindjic had recently launched a process that was supposed to result in the final status of Kosovo-Metohija in a few years, which is also his legacy. After everything that has happened, I expect us to join our forces around this programme and I also expect everyone to do everything in their power to help [the country] present the programme to the international community and ethnic Albanians in Kosovo as a serious project of all those who want to carry out the duties of politicians in a proper manner.

When the parliament appointed the Zoran Djindjic's cabinet, he promised, among other things, the launching of the privatisation process [...], the establishment of the office of ombudsman [...], regular pension payments [...], debt return [...], investments in infrastructure and the energy sector, [...], as well as higher wages and better living standards. All these promises have been fulfilled.

The government promised that the country would rejoin the community of nations; a new tax regime and tight control of the turnover of oil, cigarettes and other excise goods. We can witness that all the promises have been kept. [...]

I, people from the government, people from the Democratic Party, and I am sure DOS deputies, have the formal but also personal responsibility to continue this business, out of respect for the murdered Prime Minister, Zoran Djindjic. Do not expect me to be Prime Minister Djindjic. I have no ambition to even dream of becoming what he was to this nation. I refuse to even think about comparing myself to him, but you can expect me to be equally determined in resolving all critical situations.

I think that we are at the tail-end of the toughest critical situation of the past few years and I call on you, as I have already done, all of you who do not feel responsible for what happened to Prime Minister Djindjic, to support his programme, the programme of his government after his death.

I propose Bozidar Djelic as Minister of Finance and Economy; Vladan Batic as Minister of Justice; Rodoljub Sabic as Minister of Public Administration and Local Self-Government; Dragan Veselinov as Minister of Agriculture and Water Management; Aleksandar Vlahovic as Minister of Economy and Privatisation; Kori Udovicki as Minister of Energy and Mining; Marija Raseta-Vukosavljevic as Minister of Transport and Telecommunications; Dragoslav Sumarac as Minister of Construction and Urban Planning; Slobodan Milosavljevic as Minister of Trade, Tourism and Services; Goran Pitic as Minister of International Economic Relations; Dragan Milovanovic as Minister of Labour and Employment; Gordana Matkovic as Minister of Social Affairs; Dragan Domazet as Minister of Science, Technology and Development; Gaso Knezevic as Minister of Education and Sport; Branislav Lecic as Minister of Culture and Public Information; Tomica Milosavljevic as Minister of Health; Andjelka Mihajlov as Minister of Natural Resources and Environmental Protection; and Vojislav Milovanovic as Minister of Religion.