FOOTBALL:
Yugoslavia takes over
the leadership in Group Eight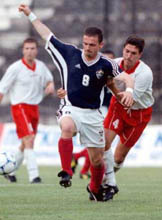 Predrag Mijatovic (blue), Yugoslav striker
Thessaloniki, Greece, June 8 - Despite playing in neutral territory in Thessaloniki, Yugoslav national football team beat Malta 4-1 in their European Championship Group Eight qualifier. Malta provided good opposition in the first half, but in the second half Yugoslavs played with three strikers and it paid off again.
Scorers: Mijatovic (34), Milosevic (48, 90) and Kovacevic (74) for Yugoslavia, Saliba (6) for Malta.
Booked: Saveljic (Yugoslavia), Chetcuti, Busuttil and Buticic (Malta).
YUGOSLAVIA: Kralj, Mirkovic, Djorovic, Jokanovic, Djukic, Saveljic, Nadj (Milosevic), Mijatovic, Kovacevic, Stojkovic (Drulovic), Dejan Stankovic (Grozdic).
---
Previous results of Yugoslav football team in Group Eight

Belgrade, November 18, 1998
YUGOSLAVIA - Republic of Ireland 1-0

La Valetta, February 10, 1999
Malta - YUGOSLAVIA 0-3
---
GROUP 8 - STANDINGS
| | | | | | | | |
| --- | --- | --- | --- | --- | --- | --- | --- |
| Team | P | W | D | L | F | A | Pts |
| YUGOSLAVIA | 3 | 3 | 0 | 0 | 8 | 1 | 9 |
| Republic of Ireland | 4 | 3 | 0 | 1 | 8 | 1 | 9 |
| F.Y.R. Macedonia | 5 | 2 | 1 | 2 | 9 | 6 | 7 |
| Croatia | 4 | 2 | 1 | 1 | 8 | 6 | 7 |
| Malta | 6 | 0 | 0 | 6 | 3 | 22 | 0 |