With half a throttle against Malta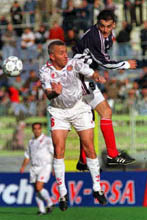 Darko Kovacevic
La Valetta, Malta, February 10 - The Yugoslav national football team won the second victory in the qualifications for the European championship 2000, as they defeated at the stadium in La Valetta, before about 6000 spectators, the national team of Malta 3-0 (1-0).
The Yugoslav team routinely won another three points in the game which will be forgotten. The guests chose patient and rational game, lurk every moment for the drop of concentration of the Maltese football players, to approach and perhaps score a goal. Yugoslav coach Milan Zivadinovic composed the team for such an occasion, disregarding the low rating of the Maltese team. He started the game with cautious tactics, with four players in defence, four in middle and two in attack.
After Mijatovic, Dejan Stankovic and Kovacevic made couple of attempts to score, the goal was scored by Nadj in 23rd minute of the game. Mijatovic had also another chance to score and increase the lead, while Malteses threatened more seriously to Kralj in 45th minute.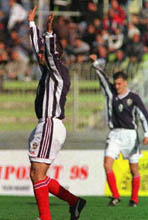 Albert Nadj
Yugoslavia scored the second goal without much difficulty. Mihajlovic made an excellent pass to Mijatovic who penetrated over the left side and sent the ball to the penalty area. Nadj was again at the right place and scored the goal - 2-0 in 55th minute.
Milosevic put the period in the 90th minute after Mihajlovic's corner. The game will be remembered only for its result. What was seen, was quite enough for winning three important points before the matches against Croatia at the Red Star stadium in Belgrade on March 27 and against Macedonia at the same stadium three days later.
The best in the Yugoslav team were Nadj, Djukic, Jovan Stankovic and Mihajlovic.
YUGOSLAVIA: Kralj, Mirkovic, Djorovic, Jokanovic, Djukic, Jovan Stankovic (Tomic), Nadj, Mijatovic, Kovacevic (Milosevic), Dejan Stankovic (Grozdic), Mihajlovic.