Mijatovic brings the first three points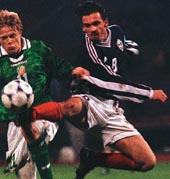 Predrag Mijatovic
Belgrade, Nov 18 - The Yugoslav national football team successfully started in the qualifications for the European championship defeating the Republic of Ireland 1-0 before 40,000 spectators at the Red Star stadium in Belgrade.
The Yugoslavs started very offensively from the very beginning but the firm and disciplined Irish players successfully resisted all the attacks.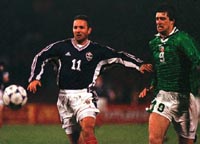 Mihajlovic (left) i Quinn
The 3-5-2 tactics has not given the desired result in the first half. Except Mihailovic's free kicks, one good kick of Jovan Stankovic and one chance of Mijatovic, the spectators did not have anything to see. The initiative on the ground was not sufficient for the goal.
In the second half Yugoslav players started playing much better, a great deal owing to Darko Kovacevic who substituted the captain Stojkovic. Better playing resulted in the leading goal scored by Mijatovic in the 64th minute. Jovan Stankovic forwarded the centre kick from the left side, the Irish defence made a mistake and Predrag Mijatovic masterly scored the only goal in the game.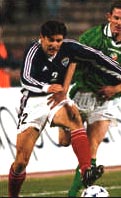 Jovan Stankovic (left) and Kinsella
The persistent Irish players did not gave up and started playing more aggressively. After several dramatic moments in front of the Kralj's goal, the Yugoslavs had luck and successfully ended the game. Yet, the home team was better for this one goal.
The next game, Yugoslavia plays against Malta on February 10, 1999.
Red Star Stadium in Belgrade. Scorer: Mijatovic (64min). Attendance: 40,000. Referee: K. Nielsen(Sweden). Booked: Djukic, Mihajlovic (Yugoslavia).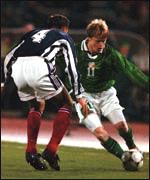 Jokanovic (left) and Duff
YUGOSLAVIA: Kralj, Jovan Stankovic, Djorovic, Jokanovic, Djukic, Dejan Stankovic, Jugovic (Grozdic), Mijatovic, Milosevic (Drulovic),Stojkovic (Kovacevic), Mihajlovic.
REPUBLIC OF IRELAND: Given, Irwin, Staunton, Breen, Cunningham, Keane, McAteer(O'Neill), Kinsella, Quinn(Cascarino), McLoughlin(Connolly),Duff.