HANDBALL:
With Spaniards for the bronze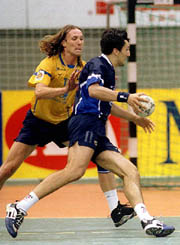 Poor second half-time: Jovanovic (YUG) passing by Ollson
Cairo, June 13 - Yugoslavia failed to qualify for the finals of the 16th Men's World Handball Championship since it lost in Cairo tonight to Sweden 23-22 (9-11).
The Yugoslav national team missed a great opportunity to defeat Sweden and qualify for the finals of the Men's World Handball Championship. They played very well in the first halftime and completely outplayed their opponent. Near the end of the first halftime, they were even four goals up (11-7) and had the ball in their hands. But in the very finish of the first part of the game, they made a couple of mistakes, and allowed Swedish handball players to score twice and get another chance in this match.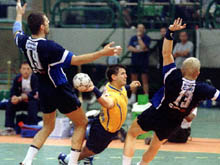 Better in defence than in offence:
Lisicic and Petric (blue jerseys, Yugoslavia)
In the second halftime, thanks primarily to bad playing of their opponents, Swedish players "caught" the result and the game was equal. The Yugoslav players made a lot of mistakes in the attack so that it was not difficult for the experienced Swedish players to triumph at the end.
On June 15, 1999, Yugoslavia will play with the Spanish national team for the bronze. Spaniards were defeated in the dramatic match by the Russians 21-22.
---
YUGOSLAVIA - Sweden 22-23 (11-9)
| | | | | |
| --- | --- | --- | --- | --- |
| Player | 7 Metre Shots | Goals/Shots | % | 2 Minute Suspensions |
| Zoran Djordjic | | | | |
| Nebojsa Golic | | 0/1 | 0 | |
| Nedeljko Jovanovic | 1/1 | 6/13 | 46 | |
| Nenad Perunicic | | 2/6 | 33 | |
| Nenad Maksic | 1/1 | 1/2 | 50 | |
| Ivan Lapcevic | | 3/5 | 60 | |
| Vladimir Petric | | 2/6 | 33 | |
| Vladan Matic | | 5/5 | 100 | |
| Dejan Peric | | | | |
| Branko Kokir | | | | 2:00 |
| Blazo Lisicic | | 1/3 | 33 | |
| Dragan Skrbic (cap) | | 2/3 | 67 | 4:00 |
| Totals | 2/2 | 22/44 | 50 | 6:00 |
| | | | | |
| --- | --- | --- | --- | --- |
| Goalkeepers | 7 M Shots (Saves/Shots) | % | Total Shots (Saves/Shots) | % |
| Zoran Djordjic | 0/1 | 0 | 0/1 | 0 |
| Dejan Peric | 0/2 | 0 | 12/34 | 35 |
| Totals | 0/3 | 0 | 12/35 | 34 |
---
Previous contents
Quarter-Finals: Yugoslavia - Germany 22-21 (10-12)
Eighth-Finals: Yugoslavia - Croatia 30:23 (15:9)
Results of Yugoslav national team in Group D