VOLLEYBALL:
YUGOSLAVIA - Czech Republic 3-0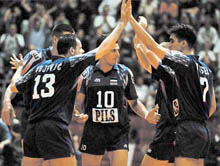 New medal of Yugoslav volleyball team
Vienna, Austria, September 12th - Yugoslav men's volleyball representation won a bronze medal after defeating Bohemian national team with 3-0 (25-17, 25-19, 25-23) today in Vienna, at the 21st European Championship.
After yesterday's poor play against the Italian representation in the European Championship semi-finals, struggling for third place Yugoslav volleyball team showed its real face and after only 75 minutes defeated Czechs, that were once winners of this championship.
Yugoslav team showed their best in the first set when they led by unreachable 16:7 and finished this part of the game leaving the rival with only 17 points.
In the second and third set, Czechs tried to offer stronger resistance to the Yugoslav team. The third set was the longest, the Czechs were closest to the tie score (19-20), but Vladimir Grbic's effective points brought the Yugoslav team very close to the triumph (24-21), but the excellent play of Goran Vujevic crowned the game.
Yugoslav selection has, in all elements of volleyball, completely outplayed the Bohemian team and deservedly won its fifth medal at the European Championships.
---
After The Match
| | |
| --- | --- |
| | "I've got lots of medals but I'm happiest with this one because this is my last game in the national team. We have passed through a lots of problems and I played this last game from the beginning to the end. I think I deserved rest." (Zeljko Tanaskovic, captain of the national team). |
| | |
| --- | --- |
| "We wanted gold, but unfortunately missed it. This is the third subsequent Yugoslav medal and when we recall of the past and what we passed through, we may see this is a big success." (Vladimir Grbic). | |
| | |
| --- | --- |
| | "We remained at the top of Europe, a step down but when we balance everything, we think we achieved a big success. At the moment this is the maximum of our capabilities. We are returning as the winners." (Goran Vujevic). |
| | |
| --- | --- |
| "We achieved the maximum, I cannot blame the players for anything. There were oscillations, new rules was the load, and there were lots bad luck and injustice in the game with Italy. Our players survived, the pressure was enormous, it was not noticeable because the victory was optimal. I congratulate them." (Zoran Gajic, coach). | |
---
YUGOSLAVIA - Czech Republic 3-0 (25-17, 25-19, 25-23)
Hall in Vienna. Attendance: 6,000.
Yugoslavia: Djuric, Batez, Tanaskovic, Boskan, Mester, Mijic, Nikola Grbic, Vladimir Grbic, Miljkovic, Vujevic, Petkovic, Geric.
---
All Results of Yugoslav National Team at the European Championship in Vienna
Group B, Round 1, September 7: Yugoslavia - Czech Republic 3-1
Group B, Round 2, September 8: Yugoslavia - France 3-1
Group B, Round 3, September 9: Yugoslavia - Netherlands 1-3
Semi-Finals, September 11: Yugoslavia - Italy 1-3
3rd Place Match, September 12: Yugoslavia - Czech Republic 3-0
---
FINAL
Italy - Russia 3-1 (19-25, 25-17, 25-22, 30-28)
Final Standings at European Championship
Italy
Russia
YUGOSLAVIA
Czech Republic
Netherlands
France
Bulgaria
Austria