Olympics 2000 - Survey (Sept 16)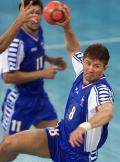 Hero of the match: Nedeljko Jovanovic
Nedeljko Jovanovic (YUG) celebrated his 30th birthday Saturday by scoring the winning goal in the final seconds of Yugoslavia's 25-24 (12-10) defeat of Korea, in the first round of the men's handball tournament.
Korea had an opportunity to level the score with one second remaining after Yugoslav captain Dragan Skrbic received the game's only red card, but Yugoslav goalkeeper Dejan Peric made his 13th save for the game to deny Korea.

Aleksandra Ivosev and Aranka Binder did not manage to place themselves into women's 10m Air Rifle Olympic Finals.
Binder shared the 15th position with 392 hit rounds, while Ivosev scored a circle weaker score, which was enough only for the position between 20th and 28th place.
Aranka Binder won bronze medal in this discipline at the Olympic Games in Barcelona 1992, while Aleksandra Ivosev also won bronze four years later in Atlanta.

Yugoslavs, Slobodan Grujic and Ilija Lupulesku have defeated Brett Clarke (AUS) and Jeff Plumb (AUS) 2-0 in a preliminary round of the men's table tennis doubles.
Grujic and Lupulesku, who won 21-8 and 21-7, now meet Germany's Timo Boll and Joerg Rosskopf in the evening session Monday.

Yugoslavia's medal hopes were dashed when their only boxer Geard Ajectovic went down narrowly on decision points (55-37) to Parkpoom Jangphonak of Thailand, after scores were locked at 9-9.

Swimmer, Nikola Savcic did not won the place in men's 100m breaststroke semifinals