Belgrade, October 18 - Last week Yugoslavia's and Sacramento's basketball star center Vlade Divac was appointed president of his former club Partizan Belgrade. His brother Ivica, and the former Partizan's players, Drazen Dalipagic, Zarko Paspalj and Predrag Danilovic, were named new Vice-Presidents.
Captain of Yugoslav national team at the Sydney Olympics Predrag Danilovic decided to retire from active playing and returned home after he had spent three years in Italian Virtus Bologna.
"It's simple: I can't do it anymore. I'm tired. I'm tired of coming back from injuries... Injuries are not the main reason for my decision, but it had influenced", said Danilovic.
Speaking about his playing in Sydney, Danilovic said:
"I think I played well in Sydney, in spite the fact that our team in general marked bad result. Nevertheless, it's bad result for me too. But, I'm tired... and I'm sad too after this fifteen years.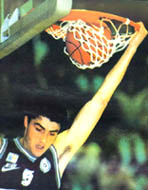 File photo of Danilovic
in Partizan's jersey
Danilovic is very pleased to be one of the Partizan vice-presidents.
"I'm very happy to be in Partizan again, in team where I begin my story. As you may remember, I have paused two years to play for Partizan, and there are a lot of people who know me when I was just a kid. One of my dreams came true, and I hope it will be realized till the end, but that depends on lot of things."
"I'm back in this country, my only country, which I love, and will always love, no matter who is the President... I'm back with hope and desire to do maximum for the benefit of sport."
Predrag Danilovic - Profile
Date and place of birth: 26/02/1970, Sarajevo
Height: 2,02 m.
Weight: 97 kg.
Position: Forward.
Teams
Bosna Sarajevo
Partizan Belgrade (1989-1992)
Virtus Bologna (1993-1995, 1998-2000)
Miami Heats (NBA 1995-1996)
Dallas Mavericks (NBA 1996-1997)
Career highlights
European Player of the year 1995
EuroStars '97
Italian Player of the year 1998
As a member of Yugoslav national team
European Champion - four times (1989, 1991, 1995, 1997)
World Champion 1990
Olympic Silver Medal 1996
As a member of Partizan Belgrade
Winner of Korac Cup 1989
Winner of European Champions' Cup 1992
Winner of Yugoslav Championships 1992
Winner of Yugoslav Cup - two times (1989, 1992)
As a member of Italian Virtus Bologna
Italian Champion - four times (1993-1995, 1998)
Winner of EuroLeague 1998