Men's European championship draw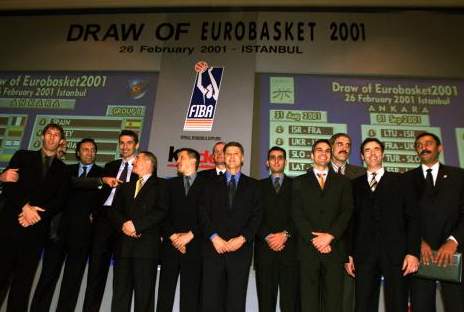 PHOTO: Former basketball stars from the 16 countries who will participate in EuroBasket 2001 stand on the stage after the draw
Istanbul, TURKEY, February 26 (agencies) - Draw for the men's European basketball championship to be played between August 31 and September 9 was made on Monday as follows:
Group A - France, Lithuania, Israel, Ukraine
Group B - Spain, Turkey, Slovenia, Latvia
Group C - YUGOSLAVIA, Germany, Croatia, Estonia
Group D - Italy, Russia, Greece, Bosnia
Matches in groups A and B will be played in Ankara, groups C and D in Antalya, on Turkey's south coast.
Group winners automatically qualify for quarter-finals. Teams placed second and third will play-off with those from groups in same region for a place in the last eight.
Matches from the quarter-finals onwards will be played in Istanbul.
Many ex-national team players participated in making the Draw including Israel's Mickey Berkowitz, Aleksander Belostenny from Ukraine, Panagiotis Fassoulas from Greece, Yugoslav Drazen Dalipagic, Vladimir Tkachenko from Russia, Spain's Jose Montero, Guiseppe Giergia from Croatia, Dino Meneghin from Italy, France's Hervé Dubisson and Sarunas Marciulonis of Lithuania.