YUGOSLAVIA - Turkey 78-69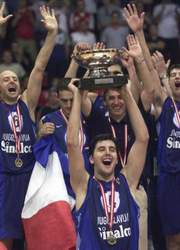 Yugoslavia's captain Dejan Bodiroga holds up the trophy
Istanbul, TURKEY, September 9 (AP) - Yugoslavia overcame poor shooting by Predrag "Peja" Stojakovic of the Sacramento Kings to beat Turkey 78-69 Sunday and win the European championships.
The Yugoslavs won all six of their games and captured the title for the eighth time. This was the best finish by Turkey in its basketball history.
Turkey, playing before a raucous home crowd, led 40-38 at halftime but could not hold off a Yugoslav team that placed five players in double figures. Dejan Bodiroga had 18 points for the winners.
Stojakovic shot 43 percent from the field and was 1-of-7 from 3-point range. But Vlado Scepanovic scored 13 second-half points for Yugoslavia, which trailed by seven points early in the game.
"Throughout the tournament Peja showed that he is a great player," Bodiroga said. "But we play as a team."
In the title game, both teams started the second half cold, with neither scoring for more than two minutes. Stojakovic ended the drought with his only 3-pointer to put Yugoslavia up by a point.
Yugoslavia stretched its lead to eight early in the fourth quarter behind nine straight points from Scepanovic.
"It wasn't easy to control this game, but thanks to our defense we stayed in it," Yugoslav coach Svetislav Pesic said.
Turkey's Hidayet Turkoglu, who plays with Stojakovic in Sacramento, fouled out in the final minute with 13 points, shooting 27 percent. Ibrahim Kutluay paced Turkey with 16 points.
"Overall, I'm very happy with our performance in this championship," Turkey coach Aydin Ors said. "We stayed with a very strong Yugoslavia team for more than three quarters."
*****
European Men's Basketball Championship, final, Istanbul, TURKEY, September 9
YUGOSLAVIA - TURKEY 78-69 (15-22, 23-18, 20-17, 20-12). Attendance: 12,000.
YUGOSLAVIA: Bodiroga 18 (29 minutes played, FTs 5/5, 2P FGs 5/10, 3P FGs 1/2, 7 rebounds), Obradovic 3 (21 minutes, FTs 1/2, 2P FGs 1/2, 3P FGs 0/3, 2 rebounds, one assist and one steal), Tarlac 2 (9 minutes, 2P FGs 1/2, one rebound), Drobnjak (25 minutes, 6 rebounds, two assists, one steal), Gurovic 11 (16 minutes, FTs 0/1, 2P FGs 4/5, 3P FGs 1/3, one rebound and one steal), Stojakovic 15 (29 minutes, FTs 2/4, 3P FGs 1/7, 2P FGs 5/7, 5 rebounds, two assists, one steal), Rakocevic (didn't enter the game), Jaric (19 minutes, 2P FGs 0/1, 3P FGs 0/1, 3 rebounds, one assist), Scepanovic 19 (21 minutes, FTs 2/4, 3P FGs 1/2, 2P FGs 7/8, one assist), Tomasevic 10 (31 minutes, FTs 4/7, 2P FGs 3/5, 7 rebounds, 3 assists, two steals), Petrovic (didn't enter the game), Milojevic (didn't enter the game).
TURKEY: Tunceri, Turkoglu 13, Turkcam 8, Ene, Pars 3, Erdenay 13, Kutluay 16, Besok 10, Okur 6, Yildirim, Peker.
FREE THROWS: Yugoslavia 61% (14/23), Turkey 89% (16/18).
2P FGs: Yugoslavia 62% (26/42), Turkey 50% (19/38).
3P FGs: Yugoslavia 19% (4/21), Turkey 26% (5/19).
REBOUNDS: Yugoslavia 32 (21+11), Turkey 33 (24+9).
PERSONAL FOULS: Yugoslavia 19, Turkey 24.
TURNOVERS: Yugoslavia 6, Turkey 11.
STEALS: Yugoslavia 6, Turkey 5.
BLOCKS: Yugoslavia - , Turkey 2.
*****
Yugoslavia's result at the European championship
August 31: Yugoslavia - Croatia 80-66
September 1: Yugoslavia - Estonia 113-58
September 2: Yugoslavia - Germany 86-73
September 6: Yugoslavia - Latvia 114-78
September 8: Yugoslavia - Spain 78-65
September 9: Yugoslavia - Turkey 78-69
*****
FINAL STANDINGS
Yugoslavia
Turkey
Spain
Germany
Russia
France
Croatia
Latvia
*****
Top players of the championship
MVP: Predrag Stojakovic (Yugoslavia)
Points: Nowitzki (Germany) - 201 (avg: 28.7)
Assists: Miglinieks (Latvia) - 51 (avg: 7.3)
Rebounds: Gasol (Spain) - 68 (avg: 9.7)

*****
Also see