Yugoslavia wins three gold medals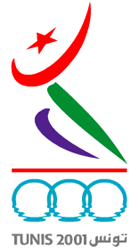 Tunisia, September 15 - Yugoslavia won 21 medals - 3 gold, 5 silver and 13 bronze - at the 14th Mediterranean Games which were held in Tunisia from September 2nd to September 15th.
Gold medals: Milorad Gajovic (boxing), Slobodan Grujic/Aleksandar Karakasevic (table tennis, men's doubles) and Biljana Golic/Gordana Plavsic (table tennis, women's doubles).
Silver medals: Norbert Futo (wrestling), Predrag Stojadinov (karate), Olivera Jevtic and Marija Martinovic (athletics), and Milos Mijalkovic (judo).
Bronze medals: Vladan Markovic (swimming), Geard Ajetovic and Aleksandar Pejanovic (boxing), Dalibor Busic (wrestling), Snezana Peric, Sara Pekovic, Vanja Vrhovac and Sladjana Mitic (karate), Nenad Loncar and Olivera Jevtic (athletics), Mara Kovacevic and Andrija Djurisic (judo), and Slobodan Grujic (table tennis, men's single).
MEDALS BY COUNTRIES
          
                             GOLD    SILVER   BRONZE  TOTAL 
  
  France                      40       32       47     119 
  Italy                       39       62       41     142 
  Turkey                      33       14       13      60 
  Spain                       31       23       43      97 
  Greece                      27       33       29      89 
  Tunisia                     17       13       25      55 
  Algeria                     10       10        9      29  
  Croatia                      9        5        7      21 
  Egypt                        7       13       15      35 
  Slovenia                     5        5        9      19 
  Morocco                      5        5        5      15 
  YUGOSLAVIA                   3        5       13      21 
  Cyprus                       1        1        3       5 
  Syria                        0        5        4       9   
  Albania                      0        1        0       1 
  Lebanon                      0        1        0       1 
  Bosnia and Herzegovina       0        0        3       3 
  Lybia                        0        0        1       1