Private Sector Perspectives on Transition in Serbia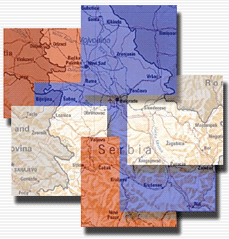 Just over a year after the new democratically elected government came to power in Serbia, the speed and quality of reforms in the country have already been hailed as the most sucessful yet seen in post- socialist transition countries. As evidence of this success, some of the world's leading private companies have set up business operations in Belgrade, and say that they are here for the long term.

The directors of three of the major companies entering the Serbian market spoke with the official web site of the Serbian governmnet, in order to offer the perspective of the business world on Serbia's transition, the challenges and opportunities of doing business in the country, the prospects for economic development, the performance of the government, and what the future holds.

Emmanuel Koenig is the Director of PricewaterhouseCoopers in Belgrade, a "Big 5" professional services firm and one of the largest foreign investors in the Serbian market to date.

Christoph Greussing is Chairman and CEO of HVB Bank Yugoslavia, the leading bank in the Central and East European region.

Klod Kolaro is Country director for Bulgaria and Yugoslavia of Oracle, a US based software giant.

The Serbian government has taken a leadership role in promoting the concept of a free trade zone in the Balkans, which has accellerated rapidly in recent months and may be realised in a series of bilateral agreements by the as soon as the end of this year. What is the significance of this initiative?

Christoph Greussing: I think the initiative to form this group is a very good one and brings a lot of advantage also to Yugoslavia. Because of the geographical location of the country, and also if you look at the cities and the potential, I believe that Belgrade can really play a very important role in southeastern Europe. It used to be once the capital of a very big country, and you sense this potential, and also what you sense is that people once experienced the freedom of moving, of traveling, of doing business, having passports, and this is a potential you don't lose over ten years. I believe that they might have a role also for this large market.

Emmanuel Koenig: Don't look at the statistics, look at what is happening besides the statistics. At the end of the day, there will be a market of 50 million - all the customs barriers down again. When we talk about 50 million persons, if tomorrow I am a company very active in the region, I would have my head office in Belgrade. I would have a production unit probably somewhere in a far region of Romania, somewhere on the west part of the Carpathians where the cost of labour will definitely will stay very low for the next ten years, because it's moving very slow. I would have all my staff in terms of finance, of marketing… you have very good marketing skills here, so I would have it here definitely, and then it's just a matter of having production units. I don't think the future of Serbia is to have production units here because in three years, it will be back like ten years ago and the salaries…

… how can you ask an investor to dedicate production here, when in two-three years, things are moving so fast?… it's the paradox of Serbia. In two-three years I can bet that the salaries will come back to a very high level.

I think we learn more from worst practices than from best practices and this is what I like with the government here is that basically they say that we have some chance over the past ten years where we can look at what has happened in these countries in terms of good things but also in terms of bad things, so me personally I like also to learn from worst practices.

How is today's Serbia different from other countries in the region?

Greussing: What I can see is that a lot of things are happening very fast, if we compare the markets, the speed here is much higher in the sense that laws are being launched, measures are being taken. To take a mention of Romania, this might be a mentality thing; Romania is a more Latin-paced country, and paced-paced people are little bit off-and-on, not doing things in a very structured way. A little more relaxed, targets move… a lot of moving targets. It's a different kind of mentality. Here, it's more target driven, so they would like to keep promises on schedule - if there's a milestone, they want to reach it. You see if you look back, I am here since the middle of July, a lot of things happened. The Paris club in November, December … they kept it, and it was a very good result. They said they would restructure the banking system - they kept it. …

So in that sense, Serbs are more target driven, and still they can use their past and their accumulated experience.

Look at the Serbian government for example, they are very professional, very multi-lingual and very very experienced - this is a big asset for the country. Everyone who is coming here and talking to, let's say, a representative of the government is astonished, they're saying "unbelievable, there's a Merrill Lynch guy sitting on the other side of the table!"

Koenig: You can imagine the events in Timisoara, in Romania, which is two hours drive from here. In Timisoara now you have one of the largest centres for developing software for the automotive business. They have I suppose about 400 computers which are developing software, just here on the border in Timisoara. So in this business yes, it's cheaper, but in services like that it's not only the cost, it's also the brains. Why? Because they have very good technology university in Timisoara which is probably better than the one in Bucharest. Why did they do that there, because here it was just closed in the past ten years, so that's an investment which would have come here anyway, for sure.

If you lost ten years, it's nothing for me, ten years, if you lose 40 years it's something because then it's about the mentality. But ten years, you can't change a mentality in ten years. So that means the mentality is still how it was before - not comparable to a central and eastern European country. You just walk around the capital of the country and you have always people speaking foreign languages, and this is something very important for services because services is not something closed in one region.

Does the Serbian workforce have the skills to compete on the global market? Does Serbia have a spirit of entrepreneurship?

Koenig: Living here you see that the people are very open minded, you can have friends very easily, they are full of entrepreneurial skills so they like living in cities, and in the last ten years they had to take initiative.

You don't have to be too clever to attract foreign investors. It's basically doing marketing, and I think that the government, they are very good marketing men also. Mr. Djindjic, Mr. Djelic, Mr. Pitic etc are very good because they are very open, very proactive coming to all these conferences for foreign investors and so on, and that is helping. That's very good, but I am sure they can market better Serbia, because there are more opportunities than what they are saying - yes, there are practical issues, because you have a wonderful new law and then you have to confront with the reality on the ground. But it's definitely a very open country.

Kolero: We cover more than 60% of the database market in Yugoslavia, and one of the reasons for us to be back is our long-term commitment to existing partners and customers. Another one is that we recognize a potention for business and positive environment. The new Serbian Government well supports this course of action and future reconstruction projects, which makes it a bigger challenge for us.

Koenig: I have to say that I have been impressed by the quality of management in a lot of Yugoslav companies. That's a key thing here, you have management skills which comes from the fact that Yugoslavia and Serbia was not a central and eastern European country …That's something which is key - you have people with very good management skills which have been running companies, which used to have quite a lot of export experience, international joint ventures and things like that, you see that in the quality of the management, I would not say of all the companies - it's not yet paradise. Now, looking at the shape of the company, from an operations point of view they normally have quite a good tradition of exports, things like that. Of course they lost a lot of export markets, during the last ten years, but they still have the skills and the knowledge which is very important. They're very export market oriented, that's a second good point. The third thing is they don't have very good financial results of course, but that's not a problem from a foreign investor's point of view.

What's important is to have a couple of these skills that I have seen before. In a lot of cases what's interesting is that you have very attractive companies who are just short of working capital - and that's a very good thing, because if it's a company that has to be completely restructured, that means, downsize in terms of staff, investing in capital investment, changing the technology and equipment, that makes a big problem. But when it's about basically re-launching the operation and getting back to normality first, with a small injection of cash and capital, and then after of course investing more, that's a very good thing. I think that the major part of the Yugoslav companies are falling into this category, and not into the category of the huge socialist or communist monsters which have to be restructured. There are a couple of them here, but even these ones are not "monsters."

Where is the Serbian economy going,, how can we prepare for the challenges, and where are investors starting?

Greussing: It's clear, if you enter a country, utilities are of importance; for the country, for the politicians, and for the banks. By investing in a country, and for example we are the only foreign bank which acquired a building here, which means a commitment and I think this is very important for the Yugoslavs here - that this bank stays here for good. When you purchase a building, it's not just jumping in and jumping out. It lives here. So, utilities are of importance, energy sector, or transportation, or telecommunication is a clear target..

In order to prepare for a western-style bank, my message to the corporate community here is - it's a new time, western-style banking is starting, which means you have to prepare your information, everything must be on the balance sheet, which didn't used to be the game, what for us [in the west] is a matter of course is here still not the case. So they have to come back to normal. They need to also come up with very serious financial statements. I mean, we have to judge the ability to pay back, and a lot of them are doing this now, they start to understand the issue and come up with information, some are already very professional, so over time I believe this will improve for sure.

Koenig: I don't think that the future of Serbia is heavy manufacturing, I think that this is something you have to forget because heavy manufacturing is something and even light manufacturing, like textiles or things like that, it's basically focussing on the costs of labour. And the cost of labour here is very attractive for the moment, but the country is moving so fast in terms of transition that in two years that will not be attractive, so I think that sometimes the government also has think about services. I'm sure that Yugoslavia and specifically Serbia should be the centre of the region for services in the future, because you have very skilled people, you have people coming from the Diaspora, very good level of education, high-tech, this is the future.

Greussing: They are doing it in a controlled way. The black market was also a means to survive for a lot of people. If you were to say from now until tomorrow everything is (zick!), declared and so on, it could also overheat, and shock the people and put them into a very embarrassing situation. What they're doing now, what other countries did, is they're trying to step by step bring it back, to start the control on the fiscal side, and certain laws like for example you should not have more than 3 thousand dinars a day in cash, this regulation which is driven by this idea - this has to be invoiced so that one can see the payment stream and could see whether they have been taxed or not, so I think they are doing this.

Be aware that the future of this country is not the gray economy anymore, this is something which will go back to normal which is very good for the welfare of this whole country. So don't invest your money in the gray market. It's of course easier said than done, I'm completely aware of it, but I think over time it's the only way this country has a future, and also of course the next generation.

How foreign investors percieve the risks of entering the market, weighed against the opportunities, will be a key factor in the success of Serbia's transition. How do the risks look from the outside?

Greussing: I always say a foreign investor is like a very shy animal, like a unicorn - it's a very shy and rare animal nowadays. A lot of people like this unicorn in their garden, and because of the behavior of this animal, the slightest uncertainty might scare it off.

Foreign investors nowadays tend to think in regions. And they don't see Serbia - I mean, I'm sitting here and I know that Serbs and Montenegrins will not shoot at each other, and I think this is also mainly due to the good work of the government, that it left this emotional level on the subject and it's a very pragmatic approach now.

Koenig: There is a political risk, definitely, but it took a lot of countries ten years to do what actually was done here in less than a year. That means that the results of that will come very rapidly. That means two-three years, but of course two-three years is a lot for the people in the villages who are starving and don't have heating.

I think the bad times are already behind. … because you have much more cash flow coming not only from international lending institutions, but also from foreign investors.

What are the real obstacles to doing business in Serbia, and how is the government responding to the business community's needs?

Koenig: It's not big hurdles, it's not big obstacles, it's the day-to-day things. What I like, I have to say, is that when we have problems, we pick up the phone and we try to contact Mr. Pitic [Serbian Minister of International Economic Relations]. And that's working. It's working for us for the moment I don't know whether it's working for the foreign investors, but that's the kind of thing that foreign investors like, you know, to have easy access to have easy access to the officials, to the government - not to negotiate big tax incentives, but to resolve their day to day problems. Because I think they have made tremendous achievements in terms of starting to move the legislative framework and listen to speeches from the World Bank and the European Union and so on, everybody is saying that this is tremendous, probably the best achievement in Central and Eastern Europe in the past ten years - that's clear - but now let's vote a couple of key laws, rapidly as they are doing, and let's focus now on the practical things, and I would say look also at the level of corruption.

Kolero: I must say that we have very good communication with Serbian Government, especially with Minister of Science, Technology and Development Dragan Domazet. For us it is important that IT managers in the Government are fully informed and educated in latest technology. This business is fast growing and shifting. It seems that there are small differences between technologies but they are quite specific. If we want to distinguish ourselves from competition, IT decision makers from Government should be well aware of those differences. This is a ground for their decision when choosing technology.

Greussing: Mr. Pitic is actually a poor chap, in the sense that he has a long long long task list, that is clear. These ten years did a lot to the country on that side. It starts with the registration process, for let's say, foreigners coming to the market. I also went through this paper way where you have to queue up and look for papers, very bureaucratic and so on. Of course, in saying that I am aware that I should not throw stones in a glass house - also in Austria sometimes this is a very painful process. But one of the first measures here should be to ease that, because it's the first impression a foreigner has in this country when he or she arrives. But he has a lot of things to do, and I really admire his positive approach and spirit and he's very pushy in bringing things forward. But in a society such as it is here, you also have to be a politician and to play with a lot of institutions like in other countries, so I think sometimes he would like to bring things faster forward and he's confronted with a certain decision process in political life, but some things happened already, we try to support him also very much - we organised a leasing seminar recently, and we're presenting to ministries what we would advise them to do out of our experience as a leader in leasing in central and eastern Europe, which I think helped them very much and we've tried to support them very much.

The big thing is you talk the same language, that's something which is so important. It's very business driven, which is important for investors. But on the other hand, their second life is, they're politicians, and one has to be careful of course, as well, not to overheat and to find an equilibrium. If you go too fast, you might lose people who are not that fast in entering this high-speed train. And this is the crucial thing now - to find the right rhythm in my point of view. I believe the support is here, I mean, people. The first winter is now over and flats were heated, and it seems to be going in the right direction.

What I see is also that if there is enough patience on the people's side, that this country could be flourishing once again.