Yugoslavia - Canada 87-71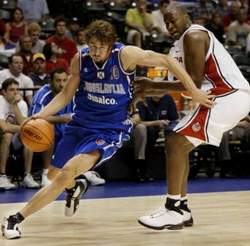 Marko Jaric drives to the basket past Michael Meeks

Indianapolis, USA, August 31 (AP) - Peja Stojakovic had 23 points and 10 rebounds to lead Yugoslavia to an 87-71 victory over Canada on Saturday, the final day of the opening round of the World Championships.

Yugoslavia (2-1), the defending champion and winner of a record four world titles, bounced back from a 71-69 loss to Spain by taking control against Canada with a 12-0 run to open the second half.

Dejan Koturovic's three-point play with 16 seconds left in the first half gave Yugoslavia its first lead of the game, 42-41.

Stojakovic, who plays for the Sacramento Kings, had four points in the run to open the third quarter that gave Yugoslavia a 54-41 lead with 3:49 left.

Canada never got closer than seven points the rest of the game.

Dejan Bodiroga added 12 points for Yugoslavia, which opens second-round play on Monday.

Rowan Barrett, who played at St. John's, and Michael Meeks, who played for the Los Angeles Lakers, each had 18 points for Canada.

Canada was expected to be more of a factor in the tournament but three NBA players - Steve Nash of Dallas, Todd MacCulloch of Philadelphia and Jamaal Magliore of New Orleans - didn't play citing reasons ranging from insurance problems, fatigue or injury. Andrew Kwiatkowski, the team's top scorer in the games leading up to the tournament, broke his wrist in the final exhibition game and also missed the competition.

Read also ...

August 29: Yugoslavia - Angola 113-63
August 30: Yugoslavia - Spain 69-71
First Round - Final Standings
Second Round - Schedule

*****

Indianapolis, USA, August 29 (AP) No country has had more success in the World Championships than Yugoslavia.

It opened defense of its record fourth gold medal on Thursday with a 113-63 thrashing of Angola, not changing a single opinion that Yugoslavia is the favorite to find a way to hand the United States its first international defeat while using NBA players.

There was no way to get anyone from Yugoslavia to talk about a matchup with the U.S. team down the road in the 16-tournament. Neither the coach nor any of the players, including the five who also play in the NBA, would even approach the subject.

"We were waiting for this game and are now looking forward to facing quality opponents and hopefully keep playing as well as we did today," Yugoslavia coach Svetislav Pesic said.

Vlade Divac, who had nine points and seven rebounds in 16 minutes, held his ground when asked about the U.S. team.

"We're not even in the same group," the Sacramento Kings' center said. "When the time comes, we'll talk about them."

Angola coach Mario Palma couldn't wait, however.

"Yugoslavia is one of the better teams in the world and the final will be the United States and Yugoslavia," he said. "They are near the U.S. Just wait for that final, it will be a great game."

Peja Stojakovic, Divac's teammate at Sacramento, had 13 points to lead eight players in double figures for Yugoslavia, which took control against Angola with a 16-0 run that gave it a 44-16 lead with 4:14 left in the first half.

Yugoslavia, which led 52-23 at halftime, dominated inside against Angola, shooting 64.6 percent (42-for-65) and finishing with a 41-29 rebound advantage led by Vladimir Radmanovic of the Seattle SuperSonics, who had 10.

Stojakovic was 3-for-5 from 3-point range, and Yugoslavia finished 9-for-13 from beyond the arc.

"It was important for us to play a good 40 minutes," Divac said.

Yugoslavia's previous world titles came in 1970, 1978 and 1990. Yugoslavia beat Russia for the gold medal in 1998, and only three of those players, none from the NBA, are on the team at this year's tournament.

This is Angola's third World Championships and it now has a 3-11 record in the event.

Still, there was plenty to be taken from the 50-point loss.

"It's always good to go against the players with international and NBA experience," said Joaquim Gomes, who averaged 5.4 points and 4.0 rebounds for Valparaiso last season. "I have a lot to learn and they can help me a lot."

Valter Monteiro had 16 points for Angola, while Gomes had eight points and six rebounds.

*****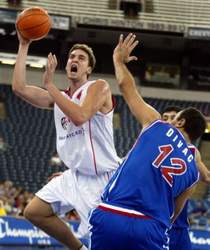 Pau Gasol shoots past Vlade Divac
Indianapolis, USA, August 30 (AP) - Yugoslavia thought it had a clear path to a potential medal-game matchup with the United States. But Pau Gasol and Spain got in the way.
Gasol scored 25 points as Spain beat defending champion Yugoslavia 71-69 Friday in the second day of the World Championships.
Yugoslavia's Vlade Divac boasted a day earlier that his team knew it could beat the U.S. Maybe so, but it couldn't get past Spain on Friday. Gasol said Yugoslavia wasn't focused on beating Spain.
"They have come here to beat USA and to get the gold medal and be a great team," Gasol said. "First, they've got to play teams like us and be ready for us."
Yugoslavia wasn't ready in the first half, falling behind by 19 as Gasol scored 16 points on 7-for-12 shooting. But Yugoslavia came on with a flourish in the second half and pulled to 71-69 with 45.9 seconds left.
Gasol had a chance to seal the victory, but missed two free throws giving Yugoslavia a chance to tie. Spain had fouls to spare and used two on Yugoslavia's last possession.
After nearly 12 seconds ticked off the clock, Yugoslavia's Dejan Bodiroga missed a wide open 10-footer with 1.1 seconds left, sending Spain to the second round.
"He's made that shot many times in the past," Yugoslavia coach Svetislav Pesic said. "He's made a lot of those. That's not what cost us the game."
Gasol, the NBA's rookie of the year with Memphis, was relieved his missed free throws didn't cost Spain the victory.
"It was a pity that I missed," he said. "We could have won with two free throws and not suffered anymore. Hopefully I won't miss anymore."
Bodiroga and Predrag Stojakovic each scored 16 for Yugoslavia.
Yugoslavia, which ended the third within six opened the fourth with a 3-pointer by Stojakovic and a basket by Bodiroga.
Divac then put back an offensive rebound for his only basket of the game, putting Yugoslavia ahead by one with 7:38 left. But a minute later, Divac fouled out and Gasol hit two free throws as Spain regained the lead.
Spain's Juan Carlos Navarro followed with consecutive 3-pointers, stretching the lead to seven before Yugoslavia rallied.
Navarro finished with 13.
Yugoslavia closed the gap in the third, starting the quarter with a 10-0 run and holding Spain without a field goal for the first 4 minutes. Yugoslavia shot only 39 percent in the third but went 12-for-12 from the free-throw line.
"We knew they were going to come after us," Gasol said. "We were kind of expecting that."
Spain broke it open in the first quarter with a 21-6 run.
Spain coach Javier Imbroda said his team would not look ahead and focus only on Angola.
"We feel good because we've created a team," he said. "I know we can see the future with more happiness. The next game is tomorrow and we're going to be happy to play that game."
Yugoslavia's also won world titles in 1970, 1978 and 1990. Spain has never won a medal.
*****
Group A

1. Spain        3   3   0   244-178   6 
2. Yugoslavia   3   2   1   269-205   5 
3. Angola       3   1   2   202-275   4 
4. Canada       3   0   3   199-256   3 

Group B

1. Brazil       3   3   0   280-245   6 
2. Puerto Rico  3   2   1   263-242   5  
3. Turkey       3   1   2   268-246   4 
4. Lebanon      3   0   3   230-308   3 

Group C

1. USA          3   3   0   298-212   6 
2. Germany      3   2   1   277-250   5 
3. China        3   1   2   237-254   4 
4. Algeria      3   0   3   212-308   3 

Group D

1. Argentina     3   3   0   319-238   6 
2. New Zealand   3   2   1   273-278   5 
3. Russia        3   1   2   248-259   4 
4. Venezuela     3   0   3   226-291   3 

*****
September 2:
Group E: Turkey - Spain, Brazil - Angola, Yugoslavia - Puerto Rico
Group F: New Zealand - Germany, Argentina - China, USA - Russia
Matches for 13th to 16th place: Canada - Lebanon and Algeria - Venezuela.
September 3:
Group E: Yugoslavia - Brazil, Spain - Puerto Rico, Turkey - Angola.
Group F: Germany - Argentina, Russia - China, USA - New Zealand.
Matches for 13th and 15th place.
September 4:
Group E: Yugoslavia - Turkey, Brazil - Spain, Puerto Rico - Angola.
Group F: New Zealand - China, Russia - Germany, USA - Argentina.