Yugoslavia - Puerto Rico 83-85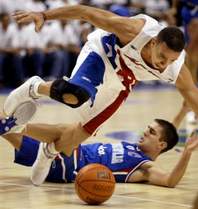 Carlos Arroyo jumps over Milos Vujanic after the two collided
Indianapolis, USA, September 2 (fiba.com) - Puerto Rico continued its surprising performance in the World Basketball Championship with an 85-83 victory over powerful Yugoslavia in a second-round game on Monday night at Conseco Fieldhouse.
With the score tied 83-83, Puerto Rico's Jose Ortiz - fouled by Peja Stojakovic battling for a rebound - made one of two free throws, then rebounded his miss and was fouled again, making the first to set off a raucous celebration among the Puerto Rican players and fans.
He made the first shot and missed the second. The live ball ran out the clock.
Ortiz's heroics culminated a comeback from an 11-point deficit in the final 7 minutes.
With 6:59 left in the game, Puerto Rico trailed 73-62 but fought back to take an 80-78 lead on Carlos Arroyo's 3-pointer with 2:10 left.
"That was a big comeback," Ayuso said. "In Puerto Rico, we believe that as long as you play with heart and play hard, good things will happen. It was a big collective effort by everybody."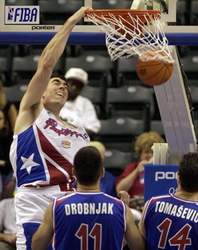 Daniel Santiago dunks as Drobnjak
and Tomasevic look on
Yugoslavia forced Puerto Rico to rely on others besides guard Elias Ayuso, who came into the game with the tournament's highest scoring average (30.0 ppg).
With Stojakovic and Milan Gurovic defending him tightly, Ayuso earned just 11 points.
His supporting cast stepped up - most notably center Daniel Santiago, who scored a game-high 31 points and grabbed 10 rebounds.
"It was a battle down there," Santiago said. "I had some good looks and my teammates got it to me where I needed it - high."
Ortiz had 15 points and eight rebounds, Arroyo 10 points and nine assists, and Rolando Hourruitiner 10 points and seven rebounds for Puerto Rico.
"Every time I came off picks, they double-teamed me," Ayuso said. "That just opened the game up on the inside."
Stojakovic led Yugoslavia with 26 points. Marko Jaric scored 16 and Vlade Divac 14.
Yugoslavian coach Svetislav Pesic said Puerto Rico won because of its confidence.
``Puerto Rico had an excellent game today," he said. "They came better prepared and played a superior game. Yugoslavia didn't take advantage of the fact it was winning the game."
Puerto Rico (3-1) faces Spain at 5:30 p.m. Tuesday in the RCA Dome. Yugoslavia (2-2) meets Brazil at 1:30 p.m. in the RCA Dome.
*****
Results and Standings
Group E:
Spain - Turkey 87-64
Brazil - Angola 86-83 (OT)
Puerto Rico - Yugoslavia 85-83

                 G   W   L     F-A    Pts
 1. Spain        3   3   0   246-188   6 
 2. Brazil       3   3   0   264-255   6 
 3. Puerto Rico  3   2   1   249-248   5 
 4. Yugoslavia   3   1   2   265-219   4 
 5. Turkey       3   0   3   225-253   3 
 6. Angola       3   0   3   201-287   3 

Group F:
Germany - New Zealand 84-64
Argentina - China 95-71
USA - Russia 106-82
 
                  G   W   L     F-A    Pts
 1. Argentina     3   3   0   307-237   6 
 2. USA           3   3   0   294-234   6 
 3. Germany       3   2   1   259-244   5 
 4. New Zealand   3   1   2   239-277   4 
 5. Russia        3   0   3   244-296   3 
 6. China         3   0   3   212-267   3 

Previous stories
Yugoslavia's result in the first round of the world basketball championship