Indianapolis, USA, September 3 (AP) - Yugoslavia's run of poor starts ended and that meant an end to Brazil's great start at the World Championships.
With four new starters - including two NBA stars and a recent draft pick - Yugoslavia handed Brazil its first loss of the tournament Tuesday, 90-69.
Yugoslavia, the defending champion and holder of a record four gold medals, found itself in a hole at the start of every game, save a blowout over Angola in the opener.
Yugoslavia coach Svetislav Pesic had answered media criticism before Tuesday's game by saying that keeping Sacramento Kings teammates Vlade Divac and Peja Stojakovic out of the starting lineup was not the reason for the team's surprisingly mediocre performance.
With Divac, Stojakovic and Milos Vujanic, a second-round draft pick of the New York Knicks, on the floor at the beginning, Yugoslavia (3-2) looked like the team many picked to challenge the United States for the gold medal.
The three combined for 16 points in Yugoslavia's game-opening 22-6 run that had matters all but settled within the opening six minutes.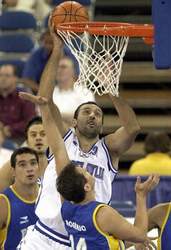 Vlade Divac (YUG) shoots
over Rogerio Klatke
"We had noticed it had been a problem so we wanted to address the issue," said Stojakovic, who led Yugoslavia with 19 points.
"We really made an effort to start out strong and aggressive on offense and defense. When we do that on both ends, we know we'll play a good game."
The losses to Spain and Puerto Rico seemed a long time ago as Yugoslavia opened a 46-28 halftime lead.
Brazil (4-1) entered the game averaging 91 points, but Yugoslavia contested every shot and dominated the boards, finishing with a 33-23 rebound advantage.
Pesic said the change in the starting lineup was all about one thing.
"The decision was based only on defense," he said. "We wanted as quick a defense as we could to help control their guards.
Vlade controlled down low and that's what helped us win."
Milan Gurovic had 15 points for Yugoslavia, while Vujanic, Marko Jaric and Dejean Bodiroga each added 10. Divac finished with seven points, eight rebounds and five assists.
Yugoslavia still needs to beat Turkey on Wednesday in the final second-round game to guarantee advancing to the quarterfinals.
"Once we got going we kept going," Stojakovic said. "Now we have to stay focused on doing that."
Marcel Machado had 15 points for Brazil, which had won its last three games by a total of nine points.
"Some stress comes with winning some games," Brazil coach Helio Garcia said. "This is a team that can have trouble with motivation and that can lead to the problem of not playing together."
Previous stories
September 2: Yugoslavia - Puerto Rico 83-85