Yugoslavia - Turkey 110-78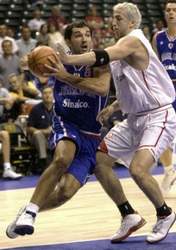 Stojakovic (YUG) drives on Turkoglu (Turkey)
Indianapolis, USA, September 4 (AP) - Yugoslavia still has a chance to defend its World Championships title.
Predrag "Peja" Stojakovic and Milan Gurovic scored 16 points apiece as Yugoslavia advanced to the medal round with a 110-78 victory Wednesday over Turkey.
The top four in each six-team group advance to the medal round. Yugoslavia, a winner of a record four world titles, joins Spain, Brazil and Puerto Rico in Group E.
Yugoslavia ran wild with its fast break, leading to 60 points in the paint and 60- percent shooting. Six players scored in double figures.
Yugoslavia won in 1998 when a lockout forced the U.S. to use collegians. With the Americans using NBA players, that might be a lofty goal this time. The Yugoslavs realize that.
"If we keep playing like this, we can hope to win one of the medals," said Igor Rakocevic, who had 10 points.
Yugoslavia (4-2) ended the first half with a 9-0 run, then blew the game open in the third quarter, taking a 20-point lead on a steal and layup by Milos Vujanic. Yugoslavia built its lead to 27 in the third, leaving Turkey to wonder went wrong.
"We came here for a better position," said Turkey's coach, Aydin Ors. "The first two losses hurt us. Injuries during practice hurt us. We learned a lot. It was important for Turkish basketball to go through this."
Turkey was clearly frustrated by the end. Mehmet Okur threw his hands in the air in frustration after several Yugoslav baskets and the Turks bolted off the court when the game ended.
Okur led Turkey (2-4) with 21 points, and Hidayet Turkoglu added 20. Mirsad Turkcan had 12 points and 11 assists.
"I don't think we played good as team," said Turkoglu, of the Sacramento Kings. "Sometimes you have to play together and not by yourself and we didn't always do that. I'm not sure."
*****
Results and final standings of the second round
Group E:
Yugoslavia - Turkey 110-78
Spain - Brazil 84-67
Puerto Rico - Angola 89-87 (OT)
Final Standings
 
                     G   W   L     F-A    Pts
 1. Puerto Rico      6   5   1   510-477   11 
 2. Spain            6   5   1   480-382   11 
 3. Yugoslavia       6   4   2   552-437   10 
 4. Brazil           6   4   2   502-502   10 
 5. Turkey           6   2   4   496-507    8 
 6. Angola           6   1   5   438-536    7 

Group F:
New Zealand - China 94-88
Germany - Russia 103-85
Argentina - USA 87-80
Final Standings
 
                     G   W   L     F-A    Pts
 1. Argentina        6   6   0   587-466   12 
 2. USA              6   5   1   594-443   11 
 3. Germany          6   4   2   541-485   10 
 4. New Zealand      6   3   3   493-560    9 
 5. Russia           6   2   4   510-536    8 
 6. China            6   1   5   464-538    7 

Q U A R T E R F I N A L S:
USA - Yugoslavia
Argentina - Brazil
Germany - Spain
Puerto Rico - New Zealand
Previous news
September 3: Yugoslavia - Brazil 90-69
September 2: Yugoslavia - Puerto Rico 83-85