Yugoslavia - United States 81-78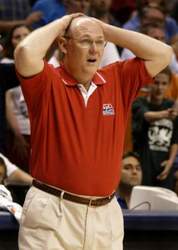 US coach George Karl looks on in disbelief (Reuters)
Indianapolis, USA, September 5 (AP) - In yet another stunning outcome, Yugoslavia came back from a 10-point deficit in the fourth quarter and defeated the U.S. team 81-78 Thursday night.
After going 58-0 using NBA players in international competitions, the Americans have lost twice in succession. The best they can do now is finish fifth in this tournament.
Cheered on by a raucous crowd of flag-waving, frantic fans who drowned out the home country's supporters, Yugoslavia advanced to the semifinals against New Zealand.
Much like Argentina did after defeating the United States on Wednesday night, the Yugoslavs celebrated, danced and hugged at midcourt as the stunned U.S. team watched.
"Right now, after beating the U.S., we think we can win the gold medal," Peja Stojakovic said.
Andre Miller had a chance to force overtime, but his long 3-point attempt just before the final buzzer came up short.
"Obviously it's embarrassing, on our home turf. We have to walk away from it as a learning experience," Miller said.
Stojakovic, one of five NBA players on Yugoslavia's roster, scored 20 points. Vlade Divac added 16 - all in the first half - and Milan Gurovic had 15.
Yugoslavia - USA 81-78 (20-20, 20-16, 12-22, 29-20)
Attendance: 4,000.
YUGOSLAVIA: Koturovic 3, Gurovic 15, Divac 16, Stojakovic 20, Vujanic 5, Jaric 7, Bodiroga 9, Tomasevic 6 (see complete statistics of Yugoslavia's players).
USA: Pierce 19, A. Davis 4, A. Miller 19, R. Miller 8, Finley 12, O'Neal 8, B. Davis 8.
Q U A R T E R F I N A L S (other pairs):
Puerto Rico - New Zealand 63-65
Spain - Germany 62-70
Brazil - Argentina 67-78
S E M I F I N A L:
Argentina - Germany
Yugoslavia - New Zealand
Gurovic hit his third 3-pointer of the fourth quarter to give Yugoslavia a 77-73 lead with 56 seconds left. Andre Miller answered with a 3-pointer 18 seconds later, and Marko Jaric sank two free throws with 23 seconds left to restore a three-point lead.
Reggie Miller got open underneath for a layup with 13 seconds remaining, and the Americans quickly fouled Jaric. He calmly sank both, and the Americans - out of timeouts - were forced to try to tie it from behind the 3-point arc.
When Miller's shot missed, the Yugoslavian fans, players and media celebrated wildly. Jurovic was hoisted onto his teammates shoulders.
"This is a great victory for us," said Divac, who boldly stated a week ago that his team knew it could beat the United States. "It's not fair for the U.S. team because there is so much pressure on them, and the international game is a different game than they're used to."
Looking as though they were still thinking about their loss to Argentina, the Americans did not get off to a good start. Paul Pierce was whistled for a foul just 8 seconds into the game, and he committed his second - both were questionable calls - just 2 minutes in.
Coach George Karl called a very early timeout, but the Americans failed to box out on the next possession as Stojakovic scored on a tip-in for a 9-0 lead.
"I still think it's a tremendous celebration of basketball," Karl said. "You're seeing the rest of the world playing better basketball, special basketball. I'm not sure it's the end of an era so much as it's a celebration of basketball."
A 9-0 run got the Americans back in the game, with the scores kept tight throughout the second quarter. Yugoslavia led for all but 66 seconds in the period, hitting big shots every time the Americans threatened to take the lead.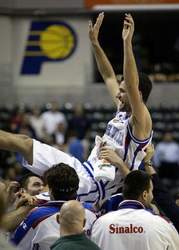 Milan Gurovic (on shoulders of his
teammates) hit crucial 3-pointers
in the fourth quarter (AP)
Divac had 16 points and five rebounds by halftime as Yugoslavia held a 40-36 lead. It was the second successive night - and the second time ever since 1992 - that the U.S. team trailed at halftime.
Pressure defense in the backcourt helped the U.S. team take the lead early in the third. Pierce hit a 3-pointer after Reggie Miller stole the ball at midcourt, and Pierce then drove down the middle for an emphatic dunk and a 45-42 lead.
A layup by Baron Davis off the U.S. team's sixth steal of the quarter gave them a 56-46 lead, although Yugoslavia got the deficit down to six by the end of the quarter.
Baron Davis hit a 3 to start an 8-0 run that gave the Americans a 69-59 lead, but Gurovic answered with consecutive 3-pointers to start a 9-0 run that got Yugoslavia right back in it.
A 3-pointer by Jaric produced a 71-71 tie with 2:26 left, and a free throw by Dejan Bodiroga with 1:49 remaining gave Yugoslavia the lead for good.
*****
Belgrade Celebrates as Yugoslavia Beats U.S.
Belgrade, YUGOSLAVIA (SERBIA AND MONTENEGRO), September 6 (Reuters) - Tens of thousands of celebrating Yugoslavs took to the streets of Belgrade on Friday after their country beat the United States 81-78 in the quarter-finals of the World Basketball Championships.
Streets around the central Republic Square were filled with frenzied fans minutes after the defending world champions rallied from a 12-point fourth-quarter deficit to defeat the "Dream Team" in Indianapolis
The result meant that Yugoslavia play New Zealand in the semi-finals while the hosts go into classification games with fifth place the best possible showing for their efforts.
"This is a dream come true and nothing else matters from now on," said Dejan, a 23-year old student who watched the game on a giant video-screen in the city center.
A noisy but well-behaved 20,000 strong crowd turned up in the early hours of the morning to see the match and never gave up hope even when the game appeared to be lost.
Fans hugged each other and whooped as Yugoslavia's shooting guards Milan Gurovic and Marko Jaric buried the Americans with deadly accuracy from three-point range in the final few minutes.
Many paraded their cars and motorcycles around the city center while others let off fireworks and waved Serbian and Yugoslav flags.
"We've waited so long for this and it happened at last. Let them know that they've lost to the defending world champions," said Marko, a 35-year old graphic designer.
The crowd swelled as people heading for work joined the festivities and brought traffic to a halt in central Belgrade.
"I couldn't care less if my car doesn't move an inch further," said Bogdan, a delighted taxi driver with 12 people in and on top of the vehicle.
"This is the best day of my life and it will never be forgotten as long as I live," he added.
Previous stories