Yugoslavia - Argentina 84-77 (OT)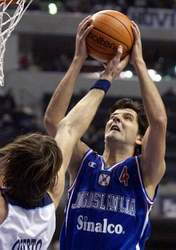 Dejan Bodiroga scored 27 points for Yugoslavia (AP)
Indianapolis, USA, September 8 (AP) - Yugoslavia came back from an eight-point deficit in the final 2 1/2 minutes and survived a crucial pair of missed free throws by Vlade Divac to beat Argentina 84-77 Sunday for the gold medal in the World Championships.
Downtown Indianapolis had the flavor of downtown Belgrade after the game, with Yugoslavia fans celebrating their country's win.
The U.S. team was played the night before, losing the sixth-place game to Spain, its third loss in the 16-team tournament.
Few in the sellout crowd of 17,709 at Conseco Fieldhouse were dwelling on USA Basketball's problems.
A disputed non-call sent the game into overtime and Yugoslavia pulled away, becoming the first team to repeat as world champion since Brazil in 1963.
"It's wonderful we were able to defend the gold medal and for the fifth time prove we are champions of the world," said Dejan Bodiroga, who had 27 points, including Yugoslavia's last nine of regulation as it wiped out an eight-point deficit over the final 2 1/2 minutes.
"We won several of the last games by showing a lot of heart," Bodiroga said. "Today was my opportunity to show the leadership that other players showed in previous games."
---
14th World Basketball Championship for Men, final game, Indianapolis, September 8
YUGOSLAVIA - ARGENTINA 84-77 (24-19, 17-20, 11-18, 23-18, 9-2)
Conseco Fieldhouse Hall. Attendance: 17,000. Referees: Pitsilkas (Greece) and Merzedes (Dominikan Republic).
YUGOSLAVIA: Bodiroga 27 points (33 minutes playedi, 2P FGs 6/8, 3P FGs 2/5, FTs 9/10, 6 rebounds, 3 assists, 4 personal fouls, 2 turnovers), Koturovic 3 (23 minutes, 2P FGs 0/7, FTs 3/4, 9 rebounds, one assist, 4 personal fouls, 2 turnovers), Cabarkapa, Rakocevic (6 minutes, 3P FGs 0/1, one rebound, 2 assists, one personal foul), Stojakovic 26 (38 minutes, 2P FGs 6/8, 3P FGs 2/12, FTs 8/8, 6 rebounds, 4 personal fouls, 3 turnovers, one steal), Radmanovic, Jaric 9 (33 minutes, 2P FGs 1/2, 3P FGs 1/3, FTs 4/6, 3 rebounds, 2 assists, one turnover, two steals, two blocks), Drobnjak, Divac 3 (35 minutes, 2P FGs 1/8, 3P FGs 0/2, FTs 1/6, 8 rebounds, one assist, 3 personal foul, 2 blocks), Vujanic 7 (12 minutes, 2P FGs 2/2, 3P FGs 1/2, 2 personal fouls), Tomasevic 6 (20 minutes, 2P FGs 3/4, 2 rebounds, one assist, 5 personal fouls, 2 steals), Gurovic 3 (25 minutes, 3P FGs 0/2, FTs 3/6, 3 rebounds, one assist, 3 personal fouls, one turnover, one steal).
ARGENTINA: Sanchez 3 (6 assists), Ginobili, Montecchia 4, Oberto 28 (10 rebounds), Viktoriano, Fernandez 2, Sconochini 3, Scola 11, Gutierrez, Noccioni 5, Palladino 10, Wolkowyski 11.
FREE THROWS: Yugoslavia - 28/40 (70%); Argentina - 14/23 (61%)
TWO-POINT FIELD GOALS: Yugoslavia - 19/39 (49%); Argentina - 24/46 (52%)
THREE-POINT FIELD GOALS: Yugoslavia - 6/27 (22%); Argentina - 5/22 (23%)
REBOUNDS (Offensive+Defensive): Yugoslavia 38 (11+27); Argentina 36 (8+28)
ASSISTS: Yugoslavia - 11; Argentina - 17
PERSONAL FOULS: Yugoslavia - 26; Argentina - 29
TURNOVERS: Yugoslavia - 9; Argentina - 8
STEALS: Yugoslavia - 6; Argentina - 5
BLOCKS: Yugoslavia - 4; Argentina - 2.
---
Yugoslavia was 2-2 after the first game of the second round, prompting hard questions to coach Svetislav Pesic.
Bodiroga, Peja Stojakovic and Vlade Divac stepped up as team leaders and Yugoslavia was suddenly the favorite again when it eliminated the United States from medal contention with a quarterfinal victory.
Argentina, the first team to beat a U.S. team with NBA players on the roster, hadn't even made the medal round since winning the first World Championships in 1950.
The long wait appeared to be over when Argentina took a 74-68 lead with 2:31 remaining in regulation. Bodiroga outscored Argentina 9-1 the rest of the way, tying it 75-75 on two free throws in the final 17 seconds.
Argentina had trouble getting the ball up the court and Divac, who said this most likely would be his last game for the national team, was fouled at midcourt as he tried to pick up a loose ball.
He missed both free throws in the last 5.9 seconds.
"I wasn't nervous, I was tired," said Divac, who finished with three points on 1-for-10 shooting.
Argentina rebounded the miss and Hugo Sconochini drove to the basket, going down hard as he missed a shot just before the final buzzer.
Coaches, players and trainers from Argentina ran onto the court to complain that a foul should have been called. Replays showed Marko Jaric of Yugoslavia making contact with Sconochini.
"I think we suffered a shock very big, considering that we practically had the doors open for a victory," Argentina coach Ruben Magnano said.
The referee, Nikos Pitsilkas of Greece, ejected a member of the Argentina delegation from behind the bench seconds into overtime. Several players screamed and gestured at the referee during the final few seconds of overtime, then clapped their hands in mock applause as he left the court.
Stojakovic, who finished with 26 points, gave Yugoslavia the lead for good with a 3-pointer with 3:44 remaining.
When the game was over, the players danced in a circle with the trophy and saluted their fans, many of whom traveled for the weekend from Detroit, Chicago, Cleveland and Windsor, Ontario.
Argentina's much smaller, but equally ardent, group of fans seemed stunned.
"We lost our last game to the greatest team," Magnano said. "I think all of Argentina is proud of our team."
Fabricio Oberto had 28 points and 10 rebounds to lead Argentina in its only loss after eight consecutive wins.
"I think we did a very good thing for Argentina," he said.
Germany won its first medal in a major international competition by beating New Zealand 117-94 in the third-place game. Dirk Nowitzki scored 29 points for Germany. He was voted the tournament's Most Valuable Player and was the scoring leader with a 24.0 average.
*****
15th place match: Algeria - Lebanon 100-70
13th place match: Canada - Venezuela 98-97
11th place match: Angola - China 96-84
9th place match: Turkey - Russia 91-86
7th place match: Puerto Rico - Brazil 91-84
5th place match: Spain - USA 81-75
3rd place match: Germany - New Zealand 117-94
FINAL: Yugoslavia - Argentina 84-77
Yugoslavia
Argentina
Germany
New Zealand
Spain
USA
Puerto Rico
Brazil
Turkey
Russia
Angola
China
Canada
Venezuela
Algeria
Lebanon
The 15th World Basketball Championship for men will be held in Saitama (JAPAN) 2006.
*****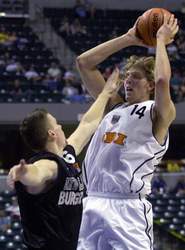 Dirk Nowitzki


Indianapolis, USA, September 8 (fiba.com) -Versatile forward Dirk Nowitzki, who led Germany to its first medal ever in the event, was named Most Valuable Player of the World Basketball Championship on Sunday.

Nowitzki averaged 24.0 points, 8.2 rebounds and 2.0 blocked shots for Germany (6-3). In the bronze-medal victory over New Zealand on Sunday, he scored 25 of his 29 points in the first half.

Predrag "Peja" Stojakovic, who averaged 18.8 points to lead gold-medal winning Yugoslavia, was named to the All-Tournament Team at guard along with Argentina's Emanuel Ginobili, who averaged 16.9 points before suffering a sprained ankle in the semifinals.

The All-Tournament forwards were Nowitzki and Pero Cameron of New Zealand, the burly big man who averaged 14.7 points, 5.0 rebounds and 3.6 assists for the fourth-place finishers.

China's Yao Ming, who averaged 21.0 points, 9.3 rebounds, 2.25 blocked shots and shot an astounding 75 percent from the field (55 of 73) was the center of choice.

*****

World champions from Buenos Aires to Indianapolis

1950 Buenos Aires - Argentina
1954 Rio de Janeiro, Brazil - USA
1959. Santiago, Chile - Brazil
1963. Rio de Janeiro, Brazil - Brazil
1967. Montevideo, Uruguay - USSR
1970. Ljubljana, Yugoslavia - Socialist Federal Republic of YUGOSLAVIA
1974. San Juan, Puerto Rico - USSR
1978. Manila, Phillipines - Socialist Federal Republic of YUGOSLAVIA
1982. Kali, Columbia - USSR
1986. Madrid, Spain - USA
1990. Buenos Aires, Argentina - Socialist Federal Republic of YUGOSLAVIA
1994. Toronto, Canada - USA
1998. Athens, Greece - Federal Republic of YUGOSLAVIA
2002. Indianapolis, USA - Federal Republic of YUGOSLAVIA

*****

Winners of medals at the world championships

                                    gold  silver  bronze  TOTAL
 SFR Yugoslavia/FR Yugoslavia         5      3       2       10
 Russia/USSR                          3      5       2       10
 USA                                  3      3       3        9
 Brazil                               2      2       2        6
 Argentina                            1      2       -        3
 Phillipines                          -      -       2        2
 Chile                                -      -       1        1
 Croatia                              -      -       1        1
 Germany                              -      -       1        1 

---
Read also ...
September 9: Yugoslavia goes wild over fifth championship