Final results of local elections in Kosovo (Deputies in municipal assemblies)



The OSCE Mission in Kosovo-Metohija released the final results of the local elections for 920 seats in 30 municipalities in the province.
According to the OSCE, a total of 711,000 voters, or 53.86 percent of the 1.32 million electorate, voted in the election.
Women will make up 28.5 percent of the deputies: 262 of them have been elected.
Municipal assemblies are required to hold inaugural sessions two weeks after the certification of final results.
Deputies will be appointed to a four-year term. The next local elections in the province will be organised by Kosovo institutions.
(Click on desired municipality to view results)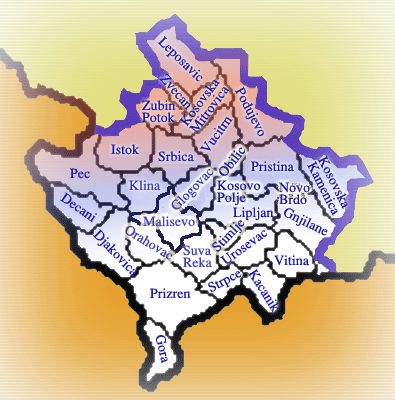 ---
Democratic Party of Serbia DSS - 5
Serbian National Council of North Kosmet SNV - 3
Citizen Initiative of Socialists of Leposavic for Kosmet in Serbia - 3
Coalition Povratak (Return) KP - 2
Serbian Renewal Movement SPO - 1
Citizen Initiative for Return and Reconciliation GIPP - 1
Veselin Radovic - 1
Citizen Initiative Zajedno (Together) GIZ - 1
Democratic League of Kosovo LDK - 25
Democratic Party of Kosovo PDK - 12
Alliance for the Future of Kosovo AAK - 2
PD - 1
Bali Kombetar - 1
Municipality of Kosovska Mitrovica
Democratic League of Kosovo LDK - 23
Democratic Party of Kosovo PDK - 15
Alliance for the Future of Kosovo AAK -2
PD - 2
Serbian National Council of North Kosmet SNV - 6
Democratic Party of Serbia DSS - 5
Coalition Povratak (Return) KP - 2
Serbian Renewal Movement SPO - 2
Social Democracy SD - 2
Democratic Party of Serbia DSS - 8
Socialists of Kolasin GISK - 4
Citizen Initiative of Kolasin GIK - 1
Survival Zubin Potok - 1
Coalition Povratak (Return) KP - 1
Democratic League of Kosovo LDK - 1
Democratic Party of Kosovo PDK - 1
Democratic League of Kosovo LDK - 29
Democratic Party of Kosovo PDK - 13
Alliance for the Future of Kosovo AAK - 4
PD - 1
Party of Kosovo PReK - 1
Democratic Party of Kosovo Turks KDTP - 1
Coalition Povratak (Return) KP - 1
Democratic Party of Serbia DSS - 1
Democratic League of Kosovo LDK - 18
Democratic Party of Kosovo PDK - 10
Alliance for the Future of Kosovo AAK - 2
PD - 1
Democratic League of Kosovo LDK - 11
Democratic Party of Kosovo PDK - 6
PD - 1
Coalition Povratak (Return) KP - 1
Movement for Kosovo-Metohija - 1
OSPS - 1
Coalition Povratak (Return) KP - 4
Democratic Party of Kosovo PDK - 4
To Live Together - 3
Democratic League of Kosovo LDK - 3
Democratic Party of Serbia - 2
Kosovo Objective Party KOS - 1
Municipality of Kosovska Kamenica
Democratic League of Kosovo LDK - 14
Democratic Party of Kosovo PDK - 9
Alliance for the Future of Kosovo AAK - 4
Coalition Povratak (Return) KP - 2
Democratic Party of Serbia DSS - 1
Kosovo Objective Party KOS - 1
Democratic League of Kosovo LDK - 23
Democratic Party of Kosovo PDK - 13
Alliance for the Future of Kosovo AAK - 2
Coalition Povratak (Return) KP - 1
Democratic Party of Serbia DSS - 1
OSA for survival of Serbs - 1
Liberal Party of Kosovo PLK - 26
Democratic League of Kosovo LDK - 4
Bali Kombetar - 1
Democratic Party of Kosovo PDK - 14
Democratic League of Kosovo LDK - 13
Alliance for the Future of Kosovo AAK - 1
Coalition Povratak (Return) KP - 1
Democratic Party of Serbia - 2
Kosovo Objective Party KOS - 1
Democratic League of Kosovo LDK - 12
Democratic Party of Kosovo PDK - 5
Alliance for the Future of Kosovo AAK - 1
Coalition Povratak (Return) KP - 1
Democratic Party of Albanian Ashkali in Kosovo PDAShK - 1
IQFK - 1
Democratic League of Kosovo LDK - 13
Democratic Party of Kosovo PDK - 10
Alliance for the Future of Kosovo AAK - 4
Albanian Christian Democratic Party of Kosovo PShDK - 3
Coalition Povratak (Return) KP - 1
Democratic League of Kosovo LDK - 15
Democratic Party of Kosovo PDK - 10
Alliance for the Future of Kosovo AAK - 3
PD - 1
National Movement of Kosovo LPK - 3
Coalition Povratak (Return) KP - 1
Democratic League of Kosovo LDK - 19
Alliance for the Future of Kosovo AAK - 12
Democratic Party of Kosovo PDK - 4
Bosniak Party of Democratic Action of Kosovo BSDAK - 1
Vatan - 1
Riza Luka - 1
Democratic Initiative of Kosovo IRDK - 1
Albanian Christian Democratic Party of Kosovo PShDK - 1
Coalition Povratak (Return) KP - 1
Democratic League of Kosovo LDK - 15
Alliance for the Future of Kosovo AAK - 15
Democratic Party of Kosovo PDK - 1
Democratic League of Kosovo LDK - 17
Alliance for the Future of Kosovo AAK - 10
Albanian Christian Democratic Party of Kosovo PShDK - 5
Democratic Party of Kosovo PDK - 3
Union of Democrats of Djakovica UDGJ - 3
Democratic Initiative of Kosovo IRDK - 2
Liberal Party of Kosovo PLK - 1
Democratic League of Kosovo LDK - 16
Democratic Party of Kosovo PDK - 12
Democratic Party of Kosovo Turks KDTP - 4
Alliance for the Future of Kosovo AAK - 2
Vatan - 2
PD - 1
Bosniak Party of Democratic Action of Kosovo BSDAK - 1
Democracy for Prizren DPP - 1
Albanian Christian Democratic Party of Kosovo PShDK - 1
Coalition Povratak (Return) KP - 1
Democratic League of Kosovo LDK - 26
Democratic Party of Kosovo PDK - 10
Alliance for the Future of Kosovo AAK - 2
National Movement of Kosovo LPK - 2
Party of Kosovo PReK - 1
Socialists of Sirinicka Zupa - 3
Serbian Democratic Movement SDP - 3
Democratic Party of Serbia DSS - 2
Democratic League of Kosovo LDK - 2
Democratic Party of Kosovo PDK - 2
Coalition Povratak (Return) KP - 2
Movement for Kosovo-Metohija - 1
Kosovo Objective Party KOS - 1
Serbian Renewal Movement SPO - 1
Democratic Party of Kosovo PDK - 15
Democratic League of Kosovo LDK - 14
Alliance for the Future of Kosovo AAK - 2
Democratic League of Kosovo LDK - 17
Democratic Party of Kosovo PDK - 9
Alliance for the Future of Kosovo AAK -2
Albanian Christian Democratic Party of Kosovo PShDK - 1
Citizen Initiative of Vitina IQV - 1
Coalition Povratak (Return) KP - 1
Democratic Party of Kosovo PDK - 17
Democratic League of Kosovo LDK - 13
Alliance for the Future of Kosovo AAK - 1
Democratic League of Kosovo LDK - 8
Democratic Party of Kosovo PDK - 6
Vatan - 3
Citizen Initiative of Gora GIG - 2
Alliance for the Future of Kosovo AAK - 1
National Movement of Kosovo LPK - 1
Democratic League of Kosovo LDK - 24
Democratic Party of Kosovo PDK - 12
Alliance for the Future of Kosovo AAK - 2
Albanian Christian Democratic Party of Kosovo PShDK - 1
Democratic Party of Albanian Ashkali in Kosovo PDAShK - 1
Democratic Party of Serbia DSS - 1
Democratic Party of Kosovo PDK - 26
Democratic League of Kosovo LDK - 4
Party of Kosovo PReK - 1
Democratic League of Kosovo LDK - 18
Democratic Party of Kosovo PDK - 6
Alliance for the Future of Kosovo AAK - 3
Coalition Povratak (Return) KP - 1
Vatan - 1
Albanian Christian Democratic Party of Kosovo PShDK - 1
Democratic Initiative of Kosovo IRDK - 1
Democratic Party of Kosovo PDK - 12
Democratic League of Kosovo LDK - 9