Tumbakovic resigns from Partizan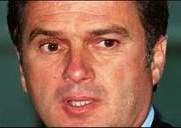 Ljubisa Tumbakovic
Belgrade, December 18 (uefa.com) - Ljubisa Tumbakovic described today as "the worst of my life" after the most successful coach in Yugoslavian football history stood down after almost a decade in charge of FK Partizan.
The 52-year-old was appointed coach of the Belgrade club in June 1992 and, save for a brief hiatus at AEK Athens FC in the 1999/00 season, has been the driving force behind a club which has won six Prva Savezna Liga championships and three Yugoslavian Cups during his time at the helm.
Tumbakovic told uefa.com last month that "Partizan is my life" and breaking such a bond obviously proved immensely difficult for one of the most respected coaches in European football. Speaking at an emotional press conference, Tumbakovic said: "Enough is enough. I don't have the energy to continue working.
"Ten years is a long time, especially as I have given 100 per cent throughout. Now I shall go home as I have plans with my family. I am very happy that I have spent so many beautiful years at Partizan. My contract lasts until June 2003, but we made a deal in June that I could leave after the first half of the championship."
Partizan were in the doldrums when Tumbakovic took control, 300 wins in 406 matches later he leaves the club nine points clear in the Yugoslavian top flight and well on course for a seventh title in a decade. Partizan director Nenad Bjekovic said: "We understand Tumbakovic's wishes and accept his resignation. We have won so many championships but I believe we will still be successful in the future."
Despite dominating domestically, though, Partizan have struggled to make an impression in Europe and were eliminated in this season's UEFA Cup second round by SK Slavia Praha 6-4 on aggregate after winning the first leg 3-1. With a tear in his eye, the departing Tumbakovic concluded: "Please don't ask me what my plans are. I just want to enjoy a beautiful holiday."