Harmonisation of Serbia and Montenegro's common market is ticket to Europe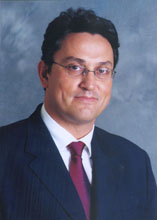 Goran Pitic
Belgrade, Feb 9, 2003 - Serbian Minister of International Economic Relations and government co-ordinator in negotiations with Montenegro Goran Pitic said in an interview to Belgrade daily Politika that the European Union and the International Monetary Fund expect Serbia and Montenegro to outline an action plan and establish a common market by March 31. Here are excerpts from the interview:
"An action plan needs to be outlined by March 31. There is the political will; our meetings were, no doubt, good and co-operative. But there are many open issues that make March 31 seem too soon. Therefore this job demands an urgent mobilisation of all resources on both sides," Pitic said.
How far have you really gone in harmonising tariffs, foreign trade, and tax systems after it was agreed that this process should be sped up and completed much earlier than previously planned, which was in three years' time?
Above all, after much effort, Serbian tariffs have gone down and Montenegrin up, to the level that is accepted as optimal. Tariffs for textile… were agreed. This is of even greater importance bearing in mind that harmonisation in this field opens the door to increase exports on the EU market. When that condition is fulfilled, we hope to increase export tariffs, because the ones that were approved for the whole year were spent in January.
There has been a lot of criticism lately that too much time has been wasted and that you should have and could have worked more quickly…
We thought it was better to spend more time on harmonisation than to agree to what was first put on the table.
How far did you go in harmonisation of other products and adjusting other issues of the two economic systems?
We exchanged lists of products whose tariff rates can be reduced in Serbia and increased in Montenegro… However, Montenegro must urgently perform tariffication of their non-tariff elements, such as quotas and contingents. Without this, we cannot get a real picture of what the tariff rates are the moment tariffication is performed. This is the first step and I hope it will be completed soon.
There is also the question of how the tariffs will function in the common market.
The republics' finance ministries are in charge of federal customs, although there are certain activities related to, say, standardisation, origin of goods, sanitary inspections, which need to be done at the level of the state union of Serbia and Montenegro.
However, there is a serious problem of defining the procedure on the Serbia-Montenegro administrative line. This is impossible to resolve in too short a period. Especially since Montenegro has already passed new customs legislation, which is to come into force in April, and under which Serbia will be treated as any other foreign country liable to tariffs. Our stand is that this issue should be resolved in the spirit of a common market, and I think that both sides understand the nature of the problem. We will try to find a way out of this, to create customs procedures between the two republics that will protect the Serbian market by requiring that all goods shipped from Montenegro, at lower tariffs, should undergo the Serbian customs procedure.
Obviously, there is still a lot of work to be done, but there isn't much time. Can we really expect the harmonisation to be completed by the end of March?
It is possible, if we focus all our available resources on the task. In Serbia, one hundred people are already working on it. There is an army of people who, daily, analyse tariffs and calculate the costs [of harmonisation]. So I expect Montenegro to mobilise its resources in the same way, and as soon as possible. If that happens, we will have two possible scenarios: In the first scenario, we establish tariffs for the whole union by March 31. They would be harmonised for some products, while for the rest we would establish tariffs with a defined pace of realisation. And in the other scenario, we would say, "We harmonised what we were able to, and marked what we could not because of disparities in capacities, protection needs, or differences of opinion and 'the costs are such and such; we have the necessary funds and resources; or we need assistance.'"
Although the request for markets harmonisation might sound to ordinary people like another ultimatum, what will we actually get with the completion of this task?
The harmonisation of the common market is a required precondition for the conduction of a feasibility study by the EU. This is our ticket to the stabilisation and association process. By signing that agreement, probably by the end of 2003 if everything goes to plan, we will be granted an opportunity to enter Europe through the back door and adjust our system to the standards of the EU regardless of the date of our accession. It would also represent a sign to investors that we belong in Europe, that we have taken a step forward in reforming our institutions, and that they can do business here. The positive effects would be immeasurable.