Donors pledge to speed up assistance to Serbia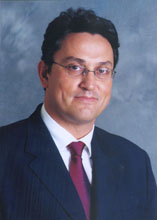 Goran Pitic
Belgrade, March 23, 2003 - Serbian Minister of International Economic Relations Goran Pitic spoke about the continuing donor assistance to Serbia in an interview with the Belgrade daily Politika. The following are excerpts from the interview:
"Through contacts with donors, which continued after the first meeting held early last week, we have been assured that the previously agreed assistance will be continued, even accelerated where possible, and that its realisation will not be postponed, which was our request."
The World Bank was the first to officially confirm donor readiness to continue aiding Serbia following the tragic events in the country.
"We expect the World Bank Board of Directors to meet in mid-April to approve a soft confessional loan for the development of the private and financial sectors that would be realised this year."
Are there any concrete signals from other donors?
"We expect Serbia and Montenegro to get €229 million from the 2003 CARDS programme, which was also confirmed in talks with representatives of the European Commission. The majority of the funds will go to Serbia. If the funding is released at the end of March, the majority of funds for this year will be agreed as early as June or July. Also, we expect to sign agreements with the European Investment Bank and the European Bank for Reconstruction and Development and pick up technical negotiations for financing road infrastructure.
A number of foreign donors attended this week's meeting.
"We also asked them to speed up the announced assistance for this year: &euro 60 million from Greece for Corridor 10 as part of the Hellenic plan, and funds for refugee apartments and &euro 35 million from Italy for small and medium-sized enterprises. We also asked Germany to continue providing assistance as it did previously. With the European Union we discussed the possibility of realising the €130 million macro-financial assistance in the second quarter of the year and negotiated priority restructuring with the US so as to use those funds for covering expenses that would have otherwise been covered from the budget."
What are the projects for a new donor's conference?
"Apart from economy projects, mainly for the development of transport and energy infrastructure, the private sector, and social infrastructure (education, health, and labour market institutions), we will ask donors to support projects in the judiciary and internal affairs so they can help the fight against organised crime and drug and human trafficking."