US government approves donation for combined power plant construction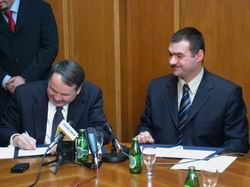 Belgrade, Feb 10, 2004 - The US government approved on Tuesday, through the mediation of its Trade and Development Agency (USTDA), a $757,245 donation for the preparation of a feasibility study on the construction of a combined power plant for district heating in New Belgrade. The agreement was signed by US Ambassador to Serbia-Montenegro William Montgomery and Serbian Deputy Minister of Energy and Mining Nikola Nikolic.
Serbian Assistant Minister of Energy and Mining Vladislav Pavicevic told a press conference today that the combined power and thermoelectric power plants are based on the state-of-the-art technology. He said that the new facility will operate at a capacity between 300 and 600 megawatts, and will power 250,000 homes in Belgrade.
Pavicevic said that the feasibility study, whose completion is planned for the late March 2005, will also examine domestic industry's capacity to produce equipment for such facilities. This was the case in Croatia, where domestic companies manufactured up to 40 percent of the total equipment. This will create possibilities for the domestic industry to take part in the construction of similar facilities in other countries as well.
Ambassador William Montgomery said that the USTDA has invested more than $4 million in various development projects in Serbia-Montenegro since 2001.