Serbian government adopts national action plan for children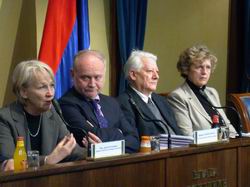 Belgrade, Feb 12, 2004 - Serbian Deputy Prime Minister and Chairman of the Serbian government's Committee for Children's Rights Zarko Korac presented today the National Action Plan for Children, the government's strategic document which defines the country's general policy towards children by 2015.
By adopting this document, the Serbian government met its international obligations which stem from the ratification of the UN Convention on the Rights of the Child, and are a precondition for European integrations.
The National Action Plan for Children is fully based on the four guiding principles of the UN Convention on the Rights of the Child, and these are non-discrimination, best interests of the child, maximum survival and development, and participation of children.
The Serbian Deputy Prime Minister said that the plan will serve as a mechanism for the monitoring of the state of children's rights during the economic, social and political transition in Serbia, with defined priorities: children poverty reduction, quality education for all children, improved health standards for all children, protection strategy for mentally disturbed children, protection of rights of children without parental care, protection of children from abuse, negligence and violence, and strengthening country's capacities for solving children's rights.
Korac said that the preparation of the plan was assisted by UNICEF and Save the Children organisation from Norway, which also offered substantial help to the formation and work of the Committee for Children's Rights.
UNICEF Director for Serbia-Montenegro Ann-Lis Svensson welcomed the adoption of this document and voiced hope that all goals of this strategic document will be achieved despite difficulties of the transition period in Serbia.