Coalition Povratak delegates representatives in Belgrade-Pristina dialogue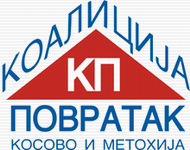 Pristina, Feb 19, 2004 - Coalition Povratak (Return) delegated its representatives for four working groups that will take part in the Belgrade-Pristina dialogue, said Nenad Radosavljevic, advisor in the UNMIK chief's cabinet.
In the Working Group for Missing Persons, the Serb community will be represented by Co-minister in the Kosovo government Milorad Todorovic and Kosovo Assembly deputy Ljiljana Kenic.
Deputies Oliver Ivanovic and Slobodan Bijelic have been delegated to the Working Group for Energy, and Minister in the Kosovo government Goran Bogdanovic and deputy Ljubomir Stanojkovic will be in the Working Group for Transport and Telecommunications.
Coalition Povratak Caucus Whip in the Kosovo Assembly Dragisa Krstovic and Nenad Radosavljevic will represent the Serb community in the Working Group for Return.
Coalition Povratak also proposed members of the High Working Group, established by the Joint Document of Serbia-Montenegro and UNMIK. These members are Co-minister Milorad Todorovic and Gojko Savic, Coalition Povratak deputy and President of the Pristina University.
Members of the Coalition Povratak decided that one expert will join Serb representatives in each working group in due course, Radosavljevic said.