Foreign Minister sends letter of protest to UN Security Council over two Kosovo Serbs killings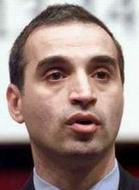 Goran Svilanovic
Belgrade, Feb 24, 2004 - Serbia-Montenegro expects the UN Security Council to take concrete measures to prevent crimes in Kosovo-Metohija, Serbia-Montenegrin Minister of Foreign Affairs Goran Svilanovic said in a letter of protest to the Security Council, following the murders of two Kosovo Serbs near Lipljan last week.
Serbia-Montenegro expects the UN Security Council to take resolute and concrete steps this time, in order to prevent further crimes and ensure security in Kosovo-Metohija, Svilanovic said in the letter.
Otherwise, Svilanovic warned, Kosovo could soon become an ethnically clean province rather than a multiethnic one. "I believe that neither the Council nor any member of the international community is ready to assume responsibility for such a development"," he added.
Svilanovic expressed his utmost indignation at the fact that since UNMIK and KFOR were first deployed in the Province, 22 Serb residents of Lipljan alone had been killed and that none of these murders had been solved.
He went on to emphasize that the professed goals of the United Nations of providing security, free movement, respect for human rights and minorities for all inhabitants of Kosovo and Metohija had been seriously undermined.
In this context, he recalled that the massacre of fourteen harvesters in Staro Gracko and the killings of the Stolic family in Obilic and of two youths who swam in the river in Gorazdevac had not yet been elucidated. He then warned that such failures on the part of KFOR and UNMIK seriously eroded both their own authority and that of the Security Council.