Red Cross representatives to provide assistance for asylum seekers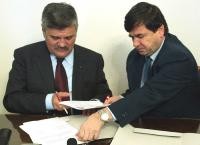 (PHOTO: Beta)
Belgrade, Feb 24, 2004 - Serbian Minister of Interior Dusan Mihajlovic and Secretary General of the Red Cross office in Serbia-Montenegro Milovan Jankovic signed today an agreement allowing Red Cross representatives to visit asylum seekers, immigrants and victims of human trafficking, and provide them with necessary humanitarian aid.
Mihajlovic told a press conference that the Red Cross and the Serbian police have a common goal to improve the implementation of their obligations and thus markedly improve the position of persons staying in temporary shelters.
Mihajlovic said that all asylum seekers, illegal asylum seekers and persons who are found on the territory of Serbia without necessary papers are placed at a temporary shelter in Padinska Skela. He added that a shelter for victims of human trafficking has been opened in Belgrade.
Mihajlovic said that the Serbian Ministry of Interior took over the responsibility over these persons from the former Federal Ministry of Interior.