Council of Europe Development Bank to lend €20 million to help Serbia resolve housing problems of 4,000 refugees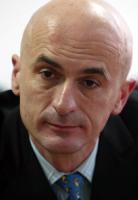 Ozren Tosic
Belgrade, Feb 27, 2004 - Serbian Commissioner for Refugees Ozren Tosic said that the Commissariat is negotiating a €20 million loan with the Council of Europe Development Bank, stressing that the funding will be used to disburse soft housing loans to refugees.
Loans will be used for building houses and purchasing houses and apartments, and will help permanently resolve accommodation problems of more than 4,000 people, Tosic told a press conference on Friday.
Loan will have a repayment period of between four and ten years, with individual loans amounting up to €15,000, Tosic added.
Tosic recalled that over 15,000 refugee families live in rented houses and apartment across Serbia, adding that the Serbian Commissariat for Refugees has launched an initiative that would allow refugees to become owners of the 1,094 housing units they built using their own resources and donations approved by the UNHCR.