There can be no state without good public finance management, Finance Minister says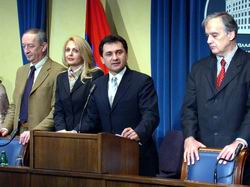 Belgrade, March 1, 2004 - Serbian Minister of Finance and Economy Bozidar Djelic said that the Ministry has spent the past three years trying to reform public finance, stressing that there can be no state without good public finance management.
Presenting a report on the Ministry's activities over the past three years, Djelic told a press conference on Monday that untransparent, unfair and unpredictable public finance in the 1990s led Serbia to its biggest economic downfall in the 20th century.
Serbia, whose state treasury was empty in early 2001, now has a budget of some €650 million, with €200 million in hard currencies and the remaining €450 million in the national currency, said Djelic.
The country's GDP rose form $9 billion in 2000 to $20 billion in early 2004, the Minister went on to say, adding that Serbia paid €525 million in debts to holders of frozen hard currency savings and settled its liabilities of €225 million with international creditors.
The inflation rate was slashed from 113 percent in 2001 to 7.8 percent, said Djelic, noting that the highest average monthly salaries were lifted from €40 to some €200.
According to Djelic, Serbia has also become the regional leader in foreign direct investment, raising $1.3 billion in sell-off receipts.
Three years ago, Serbia has embarked on the most thorough institutional reform of public finance since World War II. Stressing that international institutions rated the reform as excellent, Djelic said the parliament adopted 50 laws and 166 regulations over the same period.
Noting that Serbia has adopted the four key laws that define public finance - laws on budget system, public procurements, taxing and tax administration, and customs, Djelic went on to say that the Ministry has prepared a further 32 bills, including bills on value-added tax, the conflict of interest, insurance and public debt.
Serbia's tax system has been simplified with a number of taxes scrapped and certain tax rates trimmed to the lowest levels in Europe, said Djelic, noting that Serbia has the lowest income and corporate profit tax rates in Europe.
Good results in curbing smuggling and addressing tax evasion also helped boost public revenues, he said, adding that according to World Bank estimates, the gray economy accounts for some 30% of Serbia's GDP.
The Minister recalled that monthly salaries in public companies have been brought closer to the average salary levels in economy sectors, while the foreign debt share in GDP was reduced over 2.5 times thanks to outstanding debt rescheduling and write-offs.
Since Serbia joined the anticorruption initiative of the Stability Pact for South Eastern Europe in October 2001, the Ministry has had a prominent role in the fight against corruption and has initiated the setting up of the government's Anti-Corruption Council, Djelic noted.
Concluding his report on the Ministry's activities over the past three years, Djelic said that the state should take urgent steps to carry out the third wave of public finance reform, step up public finance decentarlisation and control, optimise public expenditure, settle the remaining debts, resume restructuring of public companies and launch privatisation only when it is not damaging to the state interest.