Serbian Prime Minister Designate presents new government's policy and make-up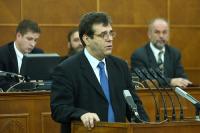 (PHOTO: Beta)
Belgrade, March 2, 2004 - The Serbian parliament has today begun its first regular session, with the election of the new Serbian government on the agenda. Parliament Speaker and Acting Serbian President Dragan Marsicanin proposed President of the Democratic Party of Serbia (DSS) Vojislav Kostunica as Prime Minister Designate. Kostunica presented the programme of the new government and named his cabinet in an address to parliament members.
The DSS will hold nine ministries in the new government, the G17 Plus will have four, of which one will go to the Social Democratic Party (SDP), and the Coalition of the Serbian Renewal Movement and the New Serbia (SPO/NS) will also get four ministries.
Prime Minister Designate Vojislav Kostunica proposed Miroljub Labus (G17 Plus) as deputy prime minister in charge of European integrations. The new government will have 17 ministries. The ministers proposed are:
Minister of Interior Dragan Jocic (DSS)

Minister of Finance Mladjan Dinkic (G17 Plus)

Minister of Justice Zoran Stojkovic (DSS)

Minister of Public Administration and Local Self-Government - Zoran Loncar (DSS)

Minister of Agriculture, Forestry and Water Management - Ivana Dulic-Markovic (G17 Plus)

Minister of Economy - Dragan Marsicanin (DSS)

Minister of Energy and Mining - Radomir Naumov (DSS)

Minister of Capital Investment - Velimir Ilic (SPO/NS)

Minister of Trade, Tourism and Services - Bojan Dimitrijevic (SPO/NS)

Minister of International Economic Relations - Predrag Bubalo (DSS)

Minister of Labour, Employment and Social Affairs - Slobodan Lalovic (SDP, G17 Plus list)

Minister of Science and Environmental Protection - Aleksandar Popovic (DSS)

Minister of Education and Sport - Ljiljana Colic (DSS)

Minister of Culture - Dragan Kojadinovic (SPO/NS)

Minister of Health - Tomica Milosavljevic (G17 Plus)

Minister of Religion - Milan Radulovic (DSS)

Minister of Diaspora - Vojislav Vukcevic (SPO/NS)
The new Serbian government will be a minority government made up of representatives of the DSS, G17 Plus and the Coalition SPO/NS, and supported by the Socialist Party of Serbia (SPS).